Kundenservice-Software
Kundenservice-Software
Ihre Kunden sind für Ihr Unternehmen das Wichtigste. Mit Kundenservice-Software können Sie bessere Kundenbeziehungen aufbauen.
Vollständiger Leitfaden für die beste Kundensupport-Software
Customer support software is the backbone of a great customer experience. But knowing which tools are right for your business, vetting providers, and getting the system implemented is no easy task.
To help you with that, we'll start with the basics of customer support software: what it is, the different types, and how it benefits your team. Then we'll get into best practices, the latest trends, and an overview of the best available tools. To wrap up, we'll walk through how to think about choosing the ideal customer support software for your organization.
Feel free to skip around by clicking through the table of contents below:
Was ist Kundenservice-Software?
Customer service software is any program that helps an organization provide assistance and/or advice to the people who buy or use their products.
The most basic role of customer service software is to provide a centralized system, known as a ticketing system, where service agents can track, prioritize, manage, respond to, and resolve customer queries or employee requests en masse. Customer service software also includes any tool that helps inform or facilitate customer service delivery.
This includes tools such as knowledge bases, messaging apps, automation software, analytics dashboards, and more.
Customer service software is often integrated with a CRM to give agents access to contextual data, such as a customer's purchase history, from external sources. This equips a support team with context about who a customer is, where they're coming from, and why they're reaching out—regardless of channel.
How does customer service software work?
At its most basic level, customer service software enables businesses to improve customer service delivery by unifying customer conversations and information across channels and systems in a single location.
Why do small businesses need customer service apps?
Small businesses need customer service applications to help organize, prioritize, and consolidate customer service inquiries. When used well, customer service apps enable quicker, more reliable, and more personalized responses to customer inquiries. This helps small businesses set themselves apart with superior customer service.
Vorteile von Kundenservice-Software
Customer service platforms can benefit companies of all sizes and types—from multinational enterprises supporting millions of other businesses in multiple languages, to small consumer-facing businesses that need to answer customer questions quickly without hiring an army of support reps.
Here are some key benefits of customer service software:
Fördert Kundenzufriedenheit und -bindung

When service agents have the information and tools they need to provide fast, personalized responses to customers, they can deliver better service. With better service, your customers are less likely to churn and more likely to become loyal buyers.

And since 52 percent of customers go out of their way to buy from brands they're loyal to, more loyalty usually means more sales. In this way, by facilitating improved service, customer service software can help your business grow with more satisfied, loyal customers.

Streamlines self-service

63 percent of customers always or almost always start with a search of a company's online resources when they have an issue. For enterprises, the challenge is managing a system for creating and updating those resources in real-time.

Customer service platforms enable your business to streamline knowledge base creation and management, saving agents time and providing customers with the resources they need. Plus, you can track how your customers are using your knowledge base to help inform further self-service improvements.

Fördert eine nahtlose Agentenerfahrung

Customer service tools help agents access and use the customer information they need, when and where they need it. These tools also facilitate improved internal collaboration with shared inboxes and greater efficiency with streamlined workflows. The result is agents that are more prepared and motivated to provide better customer care. All that leads to greater productivity, saving the business time and resources.

Gibt Unternehmen die Möglichkeit, intelligenter zu skalieren

At a certain point, rudimentary tools like spreadsheets aren't enough to facilitate transparent internal and external customer service communications. But without effective collaboration among your service team, maintaining high levels of customer satisfaction as your business grows is nearly impossible.

Customer service applications give a business the power of customer-centric agility. In other words, they enable a company to grow and scale based on the needs of its customers.

Enables smaller teams to do more, faster

The speed of 'first reply' is one of the biggest influencers on customer satisfaction. But with so many service channels and the growing demand for personalization, service agents need customer service apps to help them respond to and resolve issues faster.

And the data backs this up: in the Zendesk Benchmark Guide for Enterprise, the top-performing service teams have almost double the ticket-to-agent ratio of other companies. The way they perform well with fewer agents is by using customer service software that enables each agent to do more.
Arten von Kundenservice-Software
Kundenservice kann intern sein – zur Unterstützung der Mitarbeiter innerhalb eines Unternehmens – oder extern – zur Unterstützung der Personen, die die Produkte oder Dienstleistungen kaufen oder nutzen.
Jeder Kundenservice-Kanal wird oft als eine andere Art von Kundenservice betrachtet. Hier sind die wichtigsten Arten des Kundenservices, über die Sie Bescheid wissen sollten:
Live-Chat
Live-Chat-Software ermöglicht es Agenten, Kundenprobleme in Echtzeit zu lösen, und zwar von dort aus, wo sie sich bereits befinden, z. B. auf der Startseite Ihrer Website oder innerhalb Ihrer mobilen Anwendung.
This gives a business the ability to be proactive and get ahead of an issue before it happens or even occurs. For instance, an e-commerce company might offer live chat on its checkout page to answer frequently asked questions before a customer abandons their cart.
Live chat also enables a business to offer support around the clock. While your agents are busy being humans, chatbots can handle customer requests for them.
Telefonsupport
Ein Telefongespräch ist nach wie vor ein wirksames Mittel, um das Problem eines Kunden zu lösen, insbesondere bei Problemen mit hohem Risiko. Manchmal ist es sogar effektiver als ein langwieriger E-Mail-Austausch oder Echtzeit-Chats, dank der persönlichen Note, die ein Telefongespräch bietet, etwa die menschliche Stimme.
Mit Funktionen wie Gesprächsaufzeichnungen, intelligenter interner Weiterleitung, Zugriff auf die vollständige Kundenhistorie und automatischer Ticket-Erstellung ermöglicht die Callcenter-Software den Kundendienstmitarbeitern eine strategieorientierte Vorgehensweise.
E-Mail
E-Mail ist das tägliche Brot beim Kundensupport. Ähnlich wie das Telefon ist sie unausweichlich und bleibt ein bevorzugter Kanal der älteren Generationen.
E-Mail dient oft sowohl als interne als auch als externe Form des Supports. Ein Personal-, Lohn- und Gehaltsabrechnungs- oder IT-Team könnte beispielsweise E-Mail verwenden, um Fragen für Voll- und Teilzeitbeschäftigte zu beantworten.
Wissensdatenbank
With a knowledge base, community forum, or customer portal, support teams can empower customers to self-serve. In fact, 81% of customers would rather figure out an issue on their own.
Dies ist jedoch nur möglich, wenn die Support-Teams über Instrumente verfügen, die die Schaffung und Aufrechterhaltung von Wissen einfach machen. Die AI kann z. B. kennzeichnen, wenn der Inhalt veraltet ist oder wenn ein neues Artikelthema benötigt wird. Sie kann auch das gesammelte Wissen der Agenten nutzen, um Lösungen für Low-Touch-Tickets zu automatisieren.
Messaging-Apps
Die zunehmende Verbreitung von Messaging-Kanälen wie WhatsApp, Apple Business Chat und Facebook Messenger hat die Art und Weise verändert, wie Menschen miteinander in Kontakt treten.
That convenience factor has made its way to customer service as well. Customer service software apps allow customers to get in touch over the same messaging channels they use to communicate with friends and family.
Die Verwendung von Kundenservice-Software für die Kommunikation über Messaging-Kanäle hat den Vorteil, dass Gespräche und Kontext an einem zentralen Ort geführt werden können. Wenn das Beheben eines Problems beim Kunden mit einer Nachricht beginnt und dann einen weiteren Telefonanruf erfordert, werden alle diese Informationen im selben Support-Ticket protokolliert.
Best practices for customer service apps & software
Customer service software promises exciting capabilities, but those promises break if the people using that software don't follow best practices. Here are four best practices that'll help your team exceed expectations:
Meet customers on their own terms
Customers don't care about terms like omnichannel. But companies should.
The experience that omnichannel customer service can provide is a massive differentiator and a key tool for cultivating loyalty. What omnichannel means is offering all the channels that customers expect for communicating with your company — email, chat, phone, text, and social media.
This creates trust and comfort for the customer because they can communicate with you in the same way they already talk to friends and family.
Make personalization possible
The information you need to figure out what your customers want from your products and services is probably available to you, and possibly already pouring in. This data can feed engagement strategies with insights on when, where, and how to engage customers.
And it works: Zendesk findings show companies that leverage the most data see 36 percent faster resolutions and a 79 percent reduction in wait time while solving four times the customer requests.
If you don't know where to start, a good first step is to use an open and modern CRM platform so you can link data sources to create and offer personalized service based on real customer preferences.
Invest in effective collaboration
There's a reason that in this list of companies with the worst customer service ratings, giant telecoms, banks, and airlines dominate the top ranks. Giant companies are complex, and it's a lot harder to find the right person to talk to when there are thousands of employees—for both agents and customers.
This is what makes it so important to give your teams easy ways to reach out to other departments, so you can streamline communication and internal workflows, giving agents the context they need, when they need it to provide more responsive support.
Current trends for customer service platforms
When you're thinking about an investment in a customer service platform, whatever tool you choose will evolve and change. Don't worry, that's a good thing. You want tools that can evolve as your business, and the world, change. But that also means you need to keep an eye on how the world of customer service management is changing.
Here are a few of the top customer service trends you'll want to keep in mind as you use or consider using, new software.
Data-driven personalization as the price of entry
The idea of tapping into data from across the organization to facilitate personalized, contextually relevant customer service is not particularly new. What is new is the greater accessibility of tools that enable data-driven personalization and a broader realization among executives of the value of customer data.
In fact, the most recent KPMG CIO Survey showed that when it comes to attracting customers, 91 percent of CIOs know that how they handle and use customer data is becoming equally important as a company's products and services offerings.
In the past, a truly data-driven customer experience was too resource-intensive for most companies. But with more powerful, affordable software, tapping into data to serve your customers better isn't so much a differentiator. It's more like the price of entry.
Customer service teams are focusing on efficiency
Well before COVID-19, hiring managers had stiff competition for quality agents. So much so that most teams were expecting more growth in customer requests than in headcount. The pandemic poured lighter fluid on that fire, creating even more resource constraints. The result has been a greater focus on using the right culture, solutions, and data visibility to improve efficiency.
Still, only around half of customer service agents say they have adequate tools for measuring and reporting on the metrics that are most important to their support team. And almost 40% are neutral.
This gap presents an opportunity for CIOs and other IT leaders to again prioritize customer experience—the sum of every touchpoint each customer encounters with the business—before approving another redundant or risky point product.
Blending customer service and customer success
Traditional customer service is reactive. Customers have a problem, they reach out to an organization, and they're routed to an agent or resource that can help them solve their issue. But the world's fastest-growing companies are delivering customer service more proactively.
Rather than reacting, these organizations tailor their service to ensure their customers reach their goals.
Some enterprises are even building dedicated customer success teams as a complement(or replacement) for their service teams. While traditional customer service is far from obsolete, it's clear that executives, managers, and agents are rethinking how they define customer service.
Die 15 besten Software-Lösungen für den Kundenservice zur Verbesserung des Kundenerlebnisses
Zendesk




Sprout Social




Hootsuite




MailChimp




Apple Business Chat




Facebook




SurveyMonkey




Slack



Recurly




NICE inContact CXone




EZOfficeInventory




Boss Solutions Suite




JIRA Service Desk




LiveAgent




Freshdesk



Kunden erwarten, dass sie mit Unternehmen über die von ihnen bevorzugten Kanäle kommunizieren können. Daher muss eine Vielzahl an Technologien effizient mit Mitarbeitern ausgestattet und mit Ihrem Technologie-Stack verbunden werden. Hier sind einige Kundendienst-Tools, die einem Unternehmen helfen, einen großartigen Kundenservice zu bieten.
Mit der Kundendienst-Software von Zendesk können Unternehmen mühelos Kundenerlebnisse aufbauen. Sie ermöglichen einen nahtlosen Konversationsfluss über alle Kanäle hinweg, und das führt zu mehr Produktivität und höherer Zufriedenheit bei allen Beteiligten.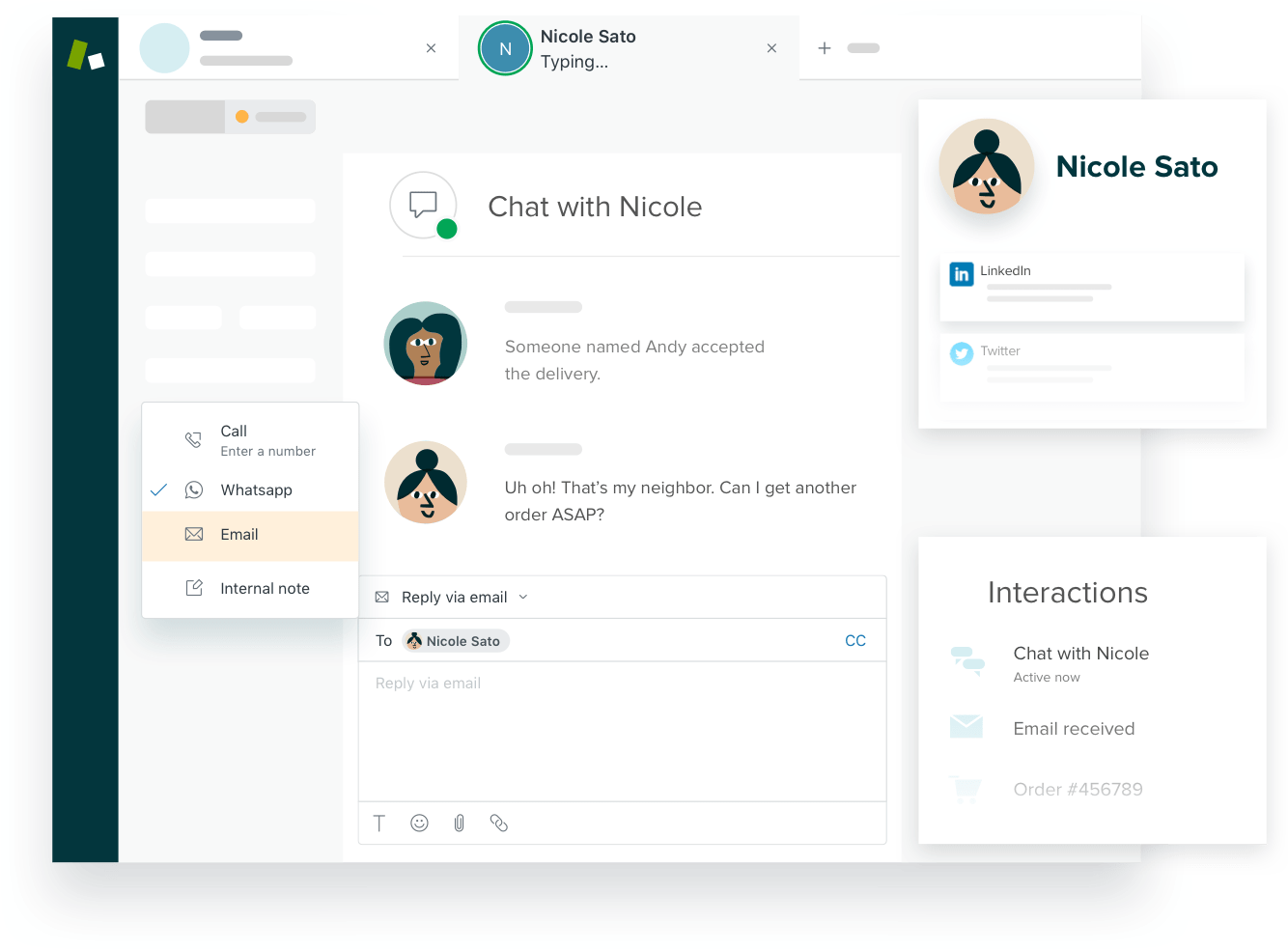 Der Arbeitsbereich für Agenten in der Zendesk Suite bietet den Supportmitarbeitern alle Tools, die sie brauchen, um miteinander und mit anderen Teams zusammenzuarbeiten und schnelle, personalisierte Antworten auf jedem Kanal zu bieten – von einer einzigen einheitlichen Benutzeroberfläche aus.
Die Kundendienst-Software von Zendesk ist schnell zu implementieren, einfach zu bedienen und skalierbar, um den Anforderungen von Unternehmen jeder Größe gerecht zu werden:
Zendesk für Großunternehmen
Großunternehmen benötigen die richtige Balance zwischen Einfachheit und Raffinesse, um große Teams und Technologien auf das auszurichten, was am wichtigsten ist – den Kunden. Zendesk stattet ein Großunternehmen mit den Tools aus, die es benötigt, um die Bedürfnisse eines vielfältigen Kundenstamms auf den Kanälen seiner Wahl zu erfüllen und gleichzeitig sicherzustellen, dass es sich dabei um ein persönliches Erlebnis handelt.
In einem Unternehmen mit mehreren Standorten müssen zahlreiche Kundenserviceagenten mit jeweils ganz unterschiedlichen Fertigkeiten verwaltet werden. Zendesk bietet Ihnen die Flexibilität, Ihre Supportlösung mit erweiterten Workflow-Tools sowie KI-gestützten Automatisierungs- und Self-Service-Funktionen anzupassen. Damit gelangen Tickets sofort an den richtigen Agenten, der immer die richtigen Informationen zur Hand hat, um das jeweilige Problem zu lösen.
Zendesk also seamlessly integrates with other tools, data, and communications across all departments to ensure smooth customer interactions and fewer miscommunications within complex operations.
Hier erfahren Sie mehr über die Kundenservice-Software für Großunternehmen von Zendesk.
Zendesk für kleine und mittlere Unternehmen
Zendesk gives small and mighty teams the gift of efficiency. It's powerful yet easy-to-use and designed to help your customer service team work better together, making the most of their time and energy. Plus, it's easy to customize with the tools you already use so you can build on what you have.
Wenn Sie in Zendesks zentralisiertem Arbeitsbereich arbeiten, stehen Ihnen alle Tools zur Verfügung, die Sie benötigen, um die Fragen der Kunden zu verfolgen und die benötigten Informationen zum richtigen Zeitpunkt zur Verfügung zu stellen. Und durch die Verwendung von Zendesks KI-gesteuerten Automatisierungen und dynamischen Arbeitsbereichen kann Ihr Team intelligenter und schneller arbeiten und mehr Kunden erreichen.
Hier erfahren Sie mehr über die Kundenservice-Software für KMU von Zendesk.
Zendesk für Startups
Wenn Sie die Erwartungen Ihrer Kunden erfüllen, gewinnen Sie ihr Vertrauen und ihre Treue. Mit der Omnichannel-Support-Lösung von Zendesk können Startups ihre Kunden dort abholen, wo diese sich gerade befinden. Supportkanäle wie E-Mail, Chat und Telefon sind zentral integriert, und Self-Service-Optionen sparen Zeit.
The best part? Zendesk for Startups provides a free 6-month credit—including access to tailored resources and a growing network and community of customer experience leaders.
Hier erfahren Sie mehr über die Kundenservice-Software für Startups von Zendesk.
Features of Zendesk's customer service software
Ticketweiterleitung
Live-Chat-Software
Native integrations
Wissensdatenbank
API
Tracking and reporting
Self-service portal
Community-Foren
Automation
With the ever-growing adoption of social media for communication, customer service software that helps support teams deliver cohesive social support experiences is immensely valuable. Through its combination of sales, support, marketing, social media monitoring, and engagement features, Sprout Social helps facilitate conversations across all social media channels.
And by connecting social media teams and support agents, Sprout Social eliminates disconnected or siloed communication and workflows.
Funktionen
Berichte und Statistiken
Automation
Tracking and reporting
Customer segmentation
Social media monitoring/management
Post scheduling
Weitere Infos zur Zendesk-Integration bei Sprout Social finden Sie hier.
Hootsuite helps teams engage with customers and schedule content across multiple social networks from one secure web-based dashboard. Its wide range of features and a large library of integrations make Hootsuite a solid overall tool for service operations.
Combined with Zendesk through a native integration, you can use Hootsuite to create, update, review, and edit tickets from social media. With Hootsuite and Zendesk, you remove the silos that often pop up between social and support teams. The result is better, more seamless customer interactions across all channels.
Funktionen
Automation
Tracking and reporting
Customer segmentation
Social media monitoring/management
Post scheduling
Weitere Infos zur Zendesk-App für Hootsuite finden Sie hier.
MailChimp enables businesses to create, send, and track email newsletters, signup forms, and event invitations. Teams can personalize emails with targeted customer segments when integrating a customer support system like Zendesk Support.
But even more than that, for a smaller business, MailChimp can double as an all-in-one marketing platform. Though you'll need one of their more expensive plans, you can use MailChimp to create landing pages and ad campaigns, track performance, and automate emails.
Funktionen
Tracking and reporting
Contact management
Landing page and email design tools
Automation
Social media monitoring
Live-Chat
Weitere Infos zu Zendesk Support und Mailchimp.
Mit dem Apple Business Chat können Kunden Antworten auf ihre Fragen erhalten, Termine vereinbaren, Probleme lösen und Einkäufe tätigen – ohne den Messenger verlassen zu müssen.
Um ein konsistentes und nahtloses Konversationserlebnis über benutzerdefinierte Messaging-Kanäle wie den Apple Business Chat zu gewährleisten, benötigt ein Unternehmen einen Messaging-Partner, wie zum Beispiel Sunshine Conversations.
Funktionen
Native integrations
Booking
Payments
Image/audio/video file support
API
Weitere Infos zur Integration des Apple Business Chat in den Zendesk Support finden Sie hier.
6. Facebook
Mit Facebook Messenger und WhatsApp können Kunden auf der ganzen Welt schnellen und bequemen Messaging-Support auf Handys erhalten. Mit einer CRM-Plattform wie Sunshine Conversations können Kunden alles tun – von der Änderung einer Hotelreservierung über die Bezahlung einer Rechnung bis hin zur Suche nach der perfekten Lippenstiftfarbe –, und zwar innerhalb des Messaging-Threads.
Funktionen
Native integrations
Booking
Payments
Image/audio/video file support
API
Erfahre mehr über die Nutzung beliebter Nachrichtenkanäle wie WhatsApp und Facebook Messenger mit Zendesk.
SurveyMonkey is a customer service tool that provides businesses with templates for a plethora of customer surveys to glean insight into things like product feedback and CSAT. And with SurveyMonkey's extensive library of integrations, you can easily work this tool into your existing workflow.
In other words, SurveyMonkey enables you to gather feedback from customers or employees with minimal disruption to you and them.
Funktionen
Live results tracking
Polling
Tracking and reporting
Image/audio/video file support
Email distribution
Native integrations
API
Weitere Infos über die Integration der SurveyMonkey-App in Zendesk finden Sie hier.
Mit Slack können interne Kunden nahtlos Unterstützung von IT- oder Personalabteilungen erhalten, und zwar über denselben Kanal, über den sie auch mit ihren Teamkollegen kommunizieren. In Kombination mit einem KI-gesteuerten Bot, wie dem Antwort-Bot von Zendesk, können sich die Mitarbeiter über Slack skalierbar selbst bedienen.
Wenn Slack in eine Softwarelösung für den Kundenservice integriert wird, können die Agenten bei der Lösung von Tickets auch besser miteinander kommunizieren, um die Zusammenarbeit zu rationalisieren und zu beschleunigen.
Funktionen
Live-Chat
Videokonferenzen
Messaging
Native integrations
API
Community-Foren
Surveys
Weitere Infos über Slack für Zendesk Support.
Recurly bietet eine vielseitige Plattform zur Verwaltung der Abonnementabrechnung, die den gesamten Lebenszyklus des Abonnenten abdeckt. Wenn sie in ein Supportsystem wie den Zendesk-Support integriert sind, müssen die Agenten nicht mehr zu separaten Registerkarten oder Systemen wechseln, um Kundenabonnementdetails einzusehen oder zu ändern.
Plus, Recurly is powerful in its own right, enabling your team to easily manage subscriptions, offer discount codes, set up recurring payments, and more.
Funktionen
Native integrations
API
Self-service portal
Automation
Subscription management
Multiple payment options
Weitere Infos über Recurly für Zendesk finden Sie hier.
NICE inContact CXone Agent consolidates customer context and contact center controls into a single interface for more efficient agents and better customer experiences. What really sets NICE inContact apart is its breadth of features for more sophisticated, larger service operations.
In addition to voice solutions, ticketing routing, and other standard customer service capabilities, NICE also provides valuable workforce and quality management tools that enable your service managers to continuously improve their team's performance.
Funktionen
Ticketweiterleitung
Workforce management
Customer surveys
Live-Chat-Software
Native integrations
Wissensdatenbank
API
Tracking and reporting
Self-service portal
Automation
Weitere Infos über NICE inContact CXone Agent für Zendesk.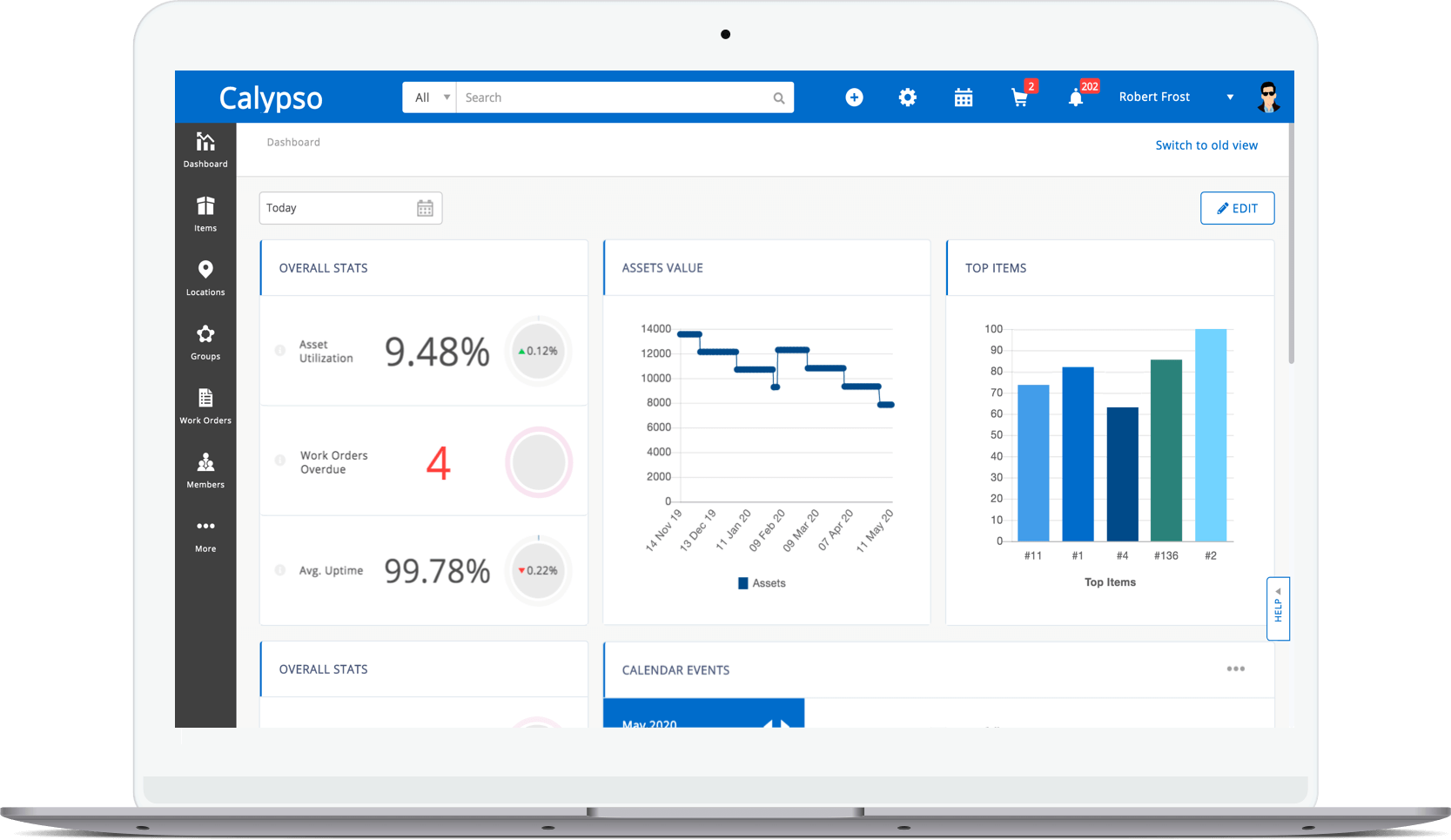 Mit EZOfficeInventory können Organisationen auf der ganzen Welt Tickets und Vorfälle in Bezug auf Ausrüstung, Vermögenswerte und Inventar verwalten.
Typische Anwendungsfälle sind z. B. ein Mitarbeiter, der ein Ticket über seinen kaputten Computer einreicht, oder eine Person vor Ort, die Hilfe mit einer Bohrmaschine benötigt: EZOfficeInventory verwaltet Asset-bezogene Details, während ein Support-Tool wie Zendesk den Ticket-Workflow verwaltet.
Funktionen
Native integrations
Wissensdatenbank
Asset tracking
Barcode scanning
Maintenance scheduling
API
Tracking and reporting
Weitere Infos über die Integration der EZOfficeInventory-App in Zendesk finden Sie hier.
Boss Solutions Suite provides businesses with a fully integrated ITIL-based help desk software and IT asset management solution available on-premise or on the cloud. Their customers include public, education, and healthcare institutions.
In addition to ticket routing, knowledge management, and self-service, Boss Solutions provides asset, incident, and change management capabilities.
Funktionen
Ticketweiterleitung
Native integrations
Wissensdatenbank
API
Tracking and reporting
Self-service portal
Automation
Jira Service Management empowers IT teams with a modern service desk that has everything they need out-of-the-box, including ITIL-certified processes. Jira is developed by Atlassian and it bills itself as the solution to silos between developers, operations, and IT.
All that said, non-IT customer service professionals may find that Jira's feature set is excessive for their needs. If you're not sure, go ahead and take JIRA for a spin; they offer 7-day free trials and they have a free plan that can give you a feel for the software.
Funktionen
Ticketweiterleitung
Live-Chat-Software
Native integrations
Wissensdatenbank
API
Tracking and reporting
Self-service portal
Automation
Learn more about Jira for Zendesk.
If your service team spends a lot of time serving customers with live chat, LiveAgent is definitely a tool to consider. LiveAgent improves live chat service delivery with features like real-time typing view, website monitoring for chat engagement, and proactive chat invitations based on the active agent availability.
LiveAgent is an especially solid solution for smaller service teams that use WordPress. And its large library of native integrations allows your team to seamlessly work it into their existing workflows. Plus it has native integrations for many of the most popular apps that support teams use.
Funktionen
Ticketweiterleitung
Live-Chat-Software
Native integrations
Wissensdatenbank
API
Tracking and reporting
Self-service portal
Community-Foren
Automation
Freshdesk helps customer service teams streamline collaboration and automation with its intuitive interface and affordable price. In their more expensive plans, Freskdesh offers all the key features you'd expect in customer support management software including team dashboards, social signals, ticket routing, and chatbots.
Another nice perk is that through Freshworks Academy, you can offload some of the burden of training your agents on the system.
Funktionen
Ticketweiterleitung
Live-Chat-Software
Native integrations
Wissensdatenbank
API
Tracking and reporting
Self-service portal
Community-Foren
Automation
A summary of the top customer service software solutions
Here's how our top 15 picks for customer service software stack up against one another at a glance:
| Kundenservice-Software | Conversation Routing | Live-Chat-Software | Native Integrations | Ticket Routing | API |
| --- | --- | --- | --- | --- | --- |
| Zendesk | ✓ | ✓ | ✓ | ✓ | ✓ |
| Sprout Social | ✓ | X | ✓ | X | ✓ |
| Hootsuite | ✓ | X | ✓ | X | ✓ |
| MailChimp | X | X | ✓ | X | ✓ |
| Apple Business Chat | X | ✓ | ✓ | X | ✓ |
| Facebook | X | ✓ | ✓ | X | ✓ |
| SurveyMonkey | X | X | ✓ | X | ✓ |
| Slack | X | ✓ | ✓ | X | ✓ |
| Recurly | X | X | ✓ | X | ✓ |
| NICE inContact CXone | ✓ | ✓ | ✓ | ✓ | ✓ |
| EZOffice Inventory | X | X | ✓ | ✓ | ✓ |
| Boss Solutions Suite | ✓ | X | X | ✓ | ✓ |
| Jira Service Management | ✓ | X | ✓ | ✓ | ✓ |
| LiveAgent | ✓ | ✓ | ✓ | ✓ | ✓ |
| Freshdesk | ✓ | ✓ | ✓ | ✓ | ✓ |
So wählen Sie die beste Software für die Verwaltung des Kundenservices für Ihr Unternehmen
Your customer service software is key to your support team's day-to-day operations. So finding the right mix of tools is a big deal.
To help you think about what tools might be the best for your team, read through the six questions listed below:
Is customer service software easy to implement?
Customer service software's ease of implementation depends on many individual factors. How easy one system is to implement versus another depends on your desired integrations, workflows, customization needs, and other factors.
That said, web-based customer service tools are generally easier to implement than desktop-based software. Still, in the vast majority of cases, businesses should be able to start servicing customers with software that fits into their existing infrastructure within a few days.
Does the customer service app provide agents with collaboration tools?
The best customer service software app equips agents with collaboration tools and streamlines workflows so they can work better together and solve customer questions efficiently.
Bei der kompetenzbasierten Weiterleitung beispielsweise werden den Agenten Fragen zugestellt, die auf Fachwissen basieren, wie z. B. Produktbereich oder Sprache. Und wenn die Kundendienst-Software mit anderen internen Tools wie E-Mail und Slack integriert wird, können die Agenten bewährte Verfahren abteilungsübergreifend austauschen.
Will customer service software allow you to seamlessly scale?
Wenn ein Unternehmen wächst, muss auch sein Kundenservice wachsen. Support-Software muss über Optionen verfügen, um einem wachsenden Unternehmen gerecht zu werden. Etwa die Möglichkeit, Kanäle nahtlos hinzuzufügen oder zu entfernen und neue Systeme und Software zu integrieren.
Does customer service software come with analytics and reporting?
Anhand von Kundenserviceanalysen kann ein Unternehmen verstehen, ob Ziele erreicht werden und ob Strategien funktionieren. Durch die Berichterstattung wird sichergestellt, dass alle beteiligten Akteure sehen, was sie tun müssen.
Is customer service software customizable to your business' needs?
Der ideale Kundenservice-Anbieter ist so konfigurierbar, dass er jeden Workflow unterstützt und auch komplexe Aufgaben erfüllen kann, gleichzeitig aber so flexibel ist, dass er sich dem Wachstum des Unternehmens anpassen kann. Es sollte auch mit Anwendungen und Integrationen geliefert werden, damit die Agenten ihren Arbeitsbereich anpassen können.
Try Zendesk's customer service software for free
Seamless communication, personalized to your customers and centralized for your agents, doesn't have to be a distant dream for you and your team. Zendesk's customer service system combines it all—integrated customer data, knowledge base management, ticketing, live chat, and much more, to elevate your customer reach and bridge the gaps within your business.
Mehr Wissen erschließen
Erforschen Sie weiterhin die Welt der Kundenservice-Software und des weltweiten Kundensupports.