VoIP für Unternehmen
Modernize your phone service for any purpose with business VoIP phone service.
Ein Leitfaden für den besten VoIP-Telefondienst
Zuletzt aktualisiert: 20. November 2023
But the reality couldn't be further from the truth. Even today's highly connected customers still mostly end up resolving their issues in a phone conversation.
What is a relic of the past is the analog phone system, not the phone itself. Yet it wasn't too long ago, before VoIP phone service, that analog phone systems were the only game in town. As a result, many organizations still rely on analog phones, despite their higher operating costs, more expensive implementations, and reliance on hardware.
Fortunately, switching to a VoIP phone service is simple and easy. The only trouble is finding and selecting the right service provider among the many options.
To that end, on this page we'll conduct an in-depth overview of VoIP phone service options. We'll review the following topics:
What is a business VoIP phone service?
Voice over Internet Protocol (VoIP) ist eine Technologie die es Ihnen ermöglicht, Ihre Anrufe statt über eine analoge Telefonlinie über ein Datennetzwerk abzuwickeln. Business VoIP phone services are hosted online and users access them through an app on their internet-connected desktop or mobile device.
How does a VoIP business phone system work?
A VoIP business phone system leverages the internet to handle incoming and outgoing phone calls. With VoIP, when you make a phone call, the VoIP app sends a signal to the VoIP servers, which routes the signal to the recipient of your phone call. The same process plays out when you want to transfer a call or put a caller on hold.
How is VoIP different from a traditional phone system?
The main difference between VoIP and a traditional phone system is that the former uses the internet and the latter uses phone lines to transmit information. This core difference means that VoIP is generally more affordable, easier to scale, simpler to set up, and more feature-rich.
Does business VoIP include international calling?
Business VoIP can, but doesn't always, include international calling. For instance, some VoIP services require you to purchase a higher tier of their software to access international calling. Other services may include international calling and charge you based on usage. In either case, international calling is available on most business VoIP solutions and it's much more affordable than international calling on a landline.
Why does your small business need a VoIP service?
Businesses of any size can benefit from a VoIP service. VoIP removes the need for you to worry about investing in any hardware or equipment, and it's easy to make changes. Among other things, you can easily add new phone numbers, add and remove agents, and change call routing and configuration.
What speed internet do I need for VoIP services?
According to the FCC, VoIP calls require a minimum download speed of fewer than 0.5 Mbps. Keep in mind, however, that your internet speed is affected by the number of requests being made. So if you often have, for example, one hundred agents making a VoIP call simultaneously, you'll need an internet speed closer to 50 Mbps to support those calls.
What do VoIP service providers do for you?
Anytime you're evaluating an investment in your business, the key question is: What's in it for me? When it comes to VoIP service providers, the answer is quite a bit.
Here are a few of the most powerful benefits that VoIP services provide for your business:
Get started fast with phone support
No one wants to go through weeks or months of setup to get their business phone system set up. But if you're setting up a landline-based system, that's what it's going to take. On the other hand, as long as you have internet access, VoIP service providers can get you operational in less than a day. Once you've chosen a VoIP provider, all you have to do is choose a phone number, add users, and your agents can start making calls.
Of course, you may need some additional time to configure the software to your liking and integrate it with other apps. But with VoIP service, you can use your existing equipment, unless you want to upgrade or add new equipment.
Run your telecommunications from anywhere
Whether you're considering VoIP for your call center or your internal phone system, it'll enable your staff to use the system from anywhere there's internet access. In fact, many organizations use VoIP service to run their call centers completely remotely. Yet VoIP is also flexible enough to accommodate on-site and hybrid workforce setups.
And since most business VoIP services come with a mobile app, your employees can use your phone system on their mobile devices too.
Easy, quick, and affordable to adapt to a changing business
Business VoIP services aren't hardware-dependent. And you can upgrade your plan to access more sophisticated features at any time. Both of these factors make it incredibly easy and quick to make changes to your phone system on-demand.
For example, suppose you have two people in your office who regularly make and receive calls. With a landline system, you'll need two phone lines, two phone numbers, and two phones connected to those lines. If you were to hire a new person, you'd need to install an additional line, buy an additional phone, and set up another phone number.
If you take the same scenario but use VoIP service instead, you need neither an additional line nor an additional phone. You can simply add a new user to your VoIP system, purchase a new phone number, and you're up and running. Your new agent can make calls from any internet-connected device.
What are the features of business VoIP systems?
Automatic call distribution (ACD) and interactive voice response (IVR)
A fundamental feature to look for in any business VoIP system is ACD, or automatic call distribution. ACD is a feature of both landline and VoIP systems that distributes (or "routes") phone calls according to predetermined rules. These rules are up to the business to decide on and may be fully customized.
ACD's often work in conjunction with interactive voice response, or IVR. IVR is the feature that greets callers with a list of options that they can choose from to connect to the desired extension, department, or agent.
App and software integrations
One of VoIP's biggest advantages, regardless of what you're using it for, is the fact that it's a digital service. And because it's a digital service, unlike landline-based systems, it's much easier to integrate VoIP-based phone systems with the apps and software you already use.
For example, suppose you choose to integrate your CRM with your VoIP system. This enables you to compile the caller's information in a useful dashboard the answering agent can rely on while chatting with the caller. Of course, CRMs aren't the only tools you can integrate with your VoIP system. For instance, with Zendesk's VoIP service, you can choose from a marketplace of hundreds of apps to integrate with your system.
Basic and advanced calling capabilities
You can expect to find all the call features in a VoIP solution that you'd get with a landline system. Dazu gehören:
Call waiting, transfer, blocking, and call forwarding

Conferencing and 3-way calls

Voicemail, caller ID, and call masking

Call monitoring, recording, call whispering, and call takeover

Anrufweiterleitung
Keep in mind that not all business VoIP solutions will have all of these features in their lower-tier plans. However, you should be able to upgrade to a plan that enables your team with the features listed above. Features such as call waiting, call monitoring, and call routing allow your organization to seamlessly operate a cost-efficient phone system.
What are the pros and cons of business VoIP phone service vs. landline?
Here's how the pros and cons of business VoIP vs. landlines shake out in terms of quality of service, features and benefits, and cost.
Service reliability
Landlines and VoIP services operate on two completely different network infrastructures. VoIP relies on the internet and landlines rely on the public switched telephone network (PTSN) which is the network of copper wires that connects phones in the U.S.
As such, if the internet goes down, your VoIP service will go down. With a landline, this isn't the case. In fact, even if the power goes out, you can still use your landline phones because PTSN provides backup power through the phone line. So, in terms of downtime, wired landlines are technically more reliable.
Call quality on VoIP can also vary depending on the quality of your internet connection. Put simply, if you have a good internet connection VoIP sound quality is as good or better than a landline. But if your connection is spotty, landlines may provide better quality.
Features and benefits
Most of the call-centric features you find with VoIP business phone services are available with landline-based solutions. However, with landlines, you'll need hardware that's capable of providing advanced features. That means you'll have to invest lots of money before you even use the features you're purchasing. Business VoIP services are generally available in tiered plans that you can upgrade at any time to access new features. And you don't need to upgrade your hardware.
Where VoIP really excels relative to landlines is that it's a digital service that can be integrated with other applications. This allows VOIP users to integrate tools like their CRM and email with their phone services. That means, for example, when a call comes in, it arrives along with a dashboard displaying the caller's account details and other important information. That enables agents to provide faster service and avoid forcing customers to repeat themselves.
Cost
According to tech.co, "Experts say the typical VoIP setup for 12 employees costs around $800, compared to around $2,500 for a comparable landline system." And if you need to make changes, like add new phone numbers, it'll be more expensive to do so with a landline system.
Also, landline systems have higher usage costs for long-distance and international calls. So if your customers are highly dispersed geographically, landlines become even more expensive compared to VoIP. All in all, VoIP is more affordable than landlines—in most cases by a significant margin.
Landlines also come with significantly more complicated, hardware-intensive, and longer implementation. While the time expense of landline implementation won't show up on any receipts, it's still a cost worth bearing in mind.
Welche Auswirkungen hat COVID-19 auf KMU?
Because of the social distancing required during the pandemic, VoIP for businesses became even more critical to the communication infrastructure. In fact, according to IBISWorld, revenue for the VoIP industry increased by 10.8% in 2020 due to heightened demand.
At the same time, the massive growth in VoIP adoption and usage provided a new channel through which bad actors could conduct scams and steal information. Fortunately, VoIP providers like Zoom have generally responded with improved security and additional security features. However, that doesn't mean you can completely rely on the service to protect you and your organization. It's important to educate yourself on VoIP security best practices to ensure your company stays safe.
Which are the best VoIP service providers?
Zendesk

Talkdesk

RingCentral MVP

8x8

Nextiva

GoToConnect

Mitel

Aircall

Dialpad
Five9

Vonage

Webex Calling by Cisco

CloudTalk Voice

CallRail Lead Center

Ooma Office

Zoom Phone

Bitrix24
Meant for any business
Every business needs VoIP software. It prevents your business from having to worry about investing in any hardware or equipment, and it's easy to make changes—like adding phone numbers, adding more agents, and changing routing and configuration. Investing in Zendesk for your customer support is the quickest way to provide productive call center VoIP.
Stay flexible
Even small businesses can get the most out of VoIP software. It helps support teams stay flexible and agile across any channel. With VoIP, it's easy to add more team members without investing in additional equipment or extensive training. Agents using Zendesk can make phone calls directly from their browser, so they can work from home, the office, or anywhere in the world. It's a win-win all around.
Reduce your costs
Pay only for the minutes that you use with Zendesk phone support software. This reduces overhead and expenses for your team, so your team can keep providing effective phone support without breaking the bank.
Preisinformationen
Suite Team: $49 per agent, per month

Suite Growth: $79 per agent, per month

Suite Professional: $99 per agent, per month
Features (Professional plan)
Gruppen, Überlauf und Weiterleitung außerhalb der Geschäftszeiten

Failover call forwarding

Personalisierte Kundenanrede für Call Center

Queue size and wait time

Call recording

Mute, hold, and warm transfer

Business hour settings

Conferencing

IVR

Request a callback

Anrufverfolgung und Aufschaltung

Benachrichtigungen zur Anrufqualität

Lokale und gebührenfreie Nummern
With Talkdesk's versatile business VoIP system, you can do just about anything you'd want to do with VoIP for business. Talkdesk's VoIP comes with many products including Talkdesk Phone, which is designed for corporate offices, and their contact center software, CX Cloud, which is designed for outbound and inbound call centers.
Among many other features, you can use CX Cloud to report on agent call metrics, manage call queues, and intelligently route inbound calls. Since Talkdesk Phone isn't designed for call centers, its functionality is more akin to a private business telephone network.
Preisinformationen
CX Essentials: $75 user/month

CX Elevate: $95 user/month

CX Elite: $125 user/month

Talkdesk Phone: Pricing not available
Features (Essentials Plan)
Call routing and IVR

Unlimited call recording storage

Automation builder

Real-time dashboards

Talkdesk Guardian

API-Zugriff

Mehr als 40 Integrationen
Weitere Infos über Zendesk für HappyFox
With a reasonable price and a deep set of business VoIP features, RingCentral MVP is a worthy solution to consider for just about any business. Their lowest-tier plan, Essentials, supports up to 20 users and includes unlimited calls in the US and Canada and unlimited business texts. Essentials also includes voicemail-to-text, team messaging, document sharing, and more.
The pricier plans, Premium and Ultimate, include more advanced features that appeal to enterprises such as whisper, barge, and real-time analytics. But for most smaller businesses, RingCentral's Standard plan can be a great fit.
Preisinformationen
Essentials: $29.99 user/month

Standard: $37.99 user/month

Premium: $44.99 user/month

Ultimate: $59.99 user/month
Features (Standard plan):
Business phone numbers in 100+ countries

Unlimited calling (US/Canada)

Unlimited audio conferencing

Voicemail-to-text and voicemail-to-email

Call log reports

On-demand call recording
Learn more about Zendesk for RingCentral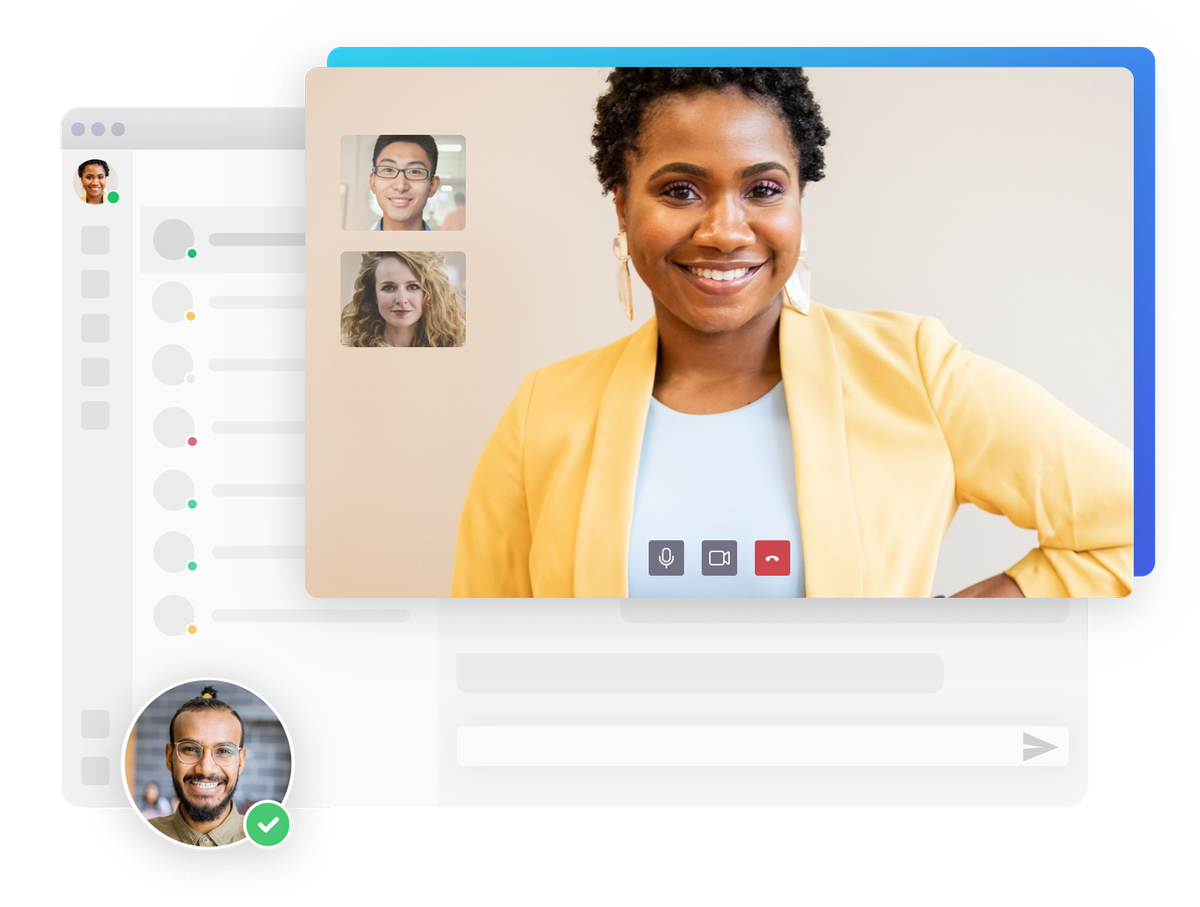 8x8's business VoIP service is a feature-rich solution with user-friendly apps for both desktop and mobile. However, many reviewers on GetVoip have noted that, in the rare cases they did require support with 8x8's product, it was difficult to get prompt, helpful service. To use 8x8's VoIP service, you have two options depending on your needs.
The first option is to purchase one of their all-in-one communications plans, which include business VoIP and are designed to act as a traditional phone system. If you also need more advanced features like skills-based routing, IVR, CRM integrations, and more, you'll need to add one of 8x8's contact center plans.
Preisinformationen
Small business phone system: $15 user/month

All-in-one voice, video and chat: $24 user/month

Advanced call handling and analytics: $44 user/month
Features (small business phone system)
Voice, video, and messaging

Unlimited calling (US and Canada)

Intelligence call routing

Voicemail

Custom hold music

Audio conferencing

Auto-attendant

Team messaging
Weitere Infos zur Zendesk-App für WATS finden Sie hier
5. Nextiva
Fully cloud-based with 99.99% uptime, Nextiva's VoIP phone services are built to suit every kind of business. Bundled with Nextiva's VoIP are video conferencing and messaging to give you more ways to communicate. Nextiva also includes a handy drag-and-drop tool they call the Call Flow Builder to help you map out call routing flows.
In addition to its VoIP software, Nextiva also sells business VoIP phones. So if you want to purchase VoIP desk phones, cordless phones, adapters or any other VoIP hardware, you can consult with them. Nextiva's service comes in two different price tiers, Professional and Enterprise, both of which are available for a free trial.
Preisinformationen
Professional: $20.95 user/month

Enterprise: $26.95 user/month
Features (Enterprise plan)
Unlimited calling in the US/CA

Unlimited business SMS

Call recording

Echtzeit-Analysen

Integrationen
GoToConnect is a hosted, cloud-based VoIP phone service. Using GoToConnect's hosted VoIP, your business and employees can make calls from anywhere they have internet and access to your network on any device. GoToConnect is a reliable, well-known service with many reputable companies as customers.
This system is designed to make setting up and maintaining your phone system as easy as possible. For instance, through the Dial Plan Editor, GoToConnect users can map out call routes and schedules in a visual interface. Plus, even their most basic plans include chat and video conferencing.
Preisinformationen
Basic: $24 user/month

Standard: $29 user/month

Premium: $39 user/month
Features (Standard Plan)
Existing number porting

Smart call routing

Call forwarding, ring groups, and call queues

Unlimited extensions

Voicemail to email

Audio conferencing
Learn more about Zendesk for GoToConnect
MiCloud Connect by Mitel is an all-in-one, cloud-based business phone system. In addition to traditional VoIP features like PBX, softphones, and advanced call controls, MiCloud includes conferencing, screen sharing, messaging, and more. And for cloud call center VoIP deployments, Mitel also has you covered with MiCloud Connect CX.
Whichever VoIP solution you chose, Mitel's products all come with an intuitive desktop and mobile app. Also, since Mitel is built on Google Cloud, you could run a VoIP system that's HIPAA compliant with strong reliability, security, and scalability.
Pricing not available
Funktionen
PBX features

Softphone

IP desk phone options

Conferencing

Screen and file sharing
Weitere Infos über Zendesk für Helpjuice finden Sie hier
8. Aircall
A truly globally distributed workforce can stay connected using VoIP with solutions like Aircall's business phone system. Aircall supports phone numbers in more than 100 countries and makes it super easy to add new team members and departments. In addition to its basic VoIP functionality, Aircall offers features like call tracking and popular app integrations.
Plus, you can do anything you need to on your VoIP phone including conference calls, call forwarding, call transferring, and more. And all plans from Aircall include a free trial of their unlimited inbound and outbound calling throughout Canada and the United States.
Pricing Plans:
Essentials: $30 user/month

Professional: $50 user/month
Features of Aircall Essentials
IVR

Call queuing

Business hours

Ring groups

Gemeinsame E-Mail-Inbox

Conferencing

Einfache Analysen

Voicemail by email

Warm transfers

PowerDialer

Call recording
Weitere Infos über Zendesk für HappyFox
9. Dialpad
Both small and large businesses may find Dialpad's business VoIP phone service to be worthy of consideration. And fortunately, any Dialpad plan is available for a free trial. If you opt for the free trial, you'll be treated to a very affordable alternative to a traditional PBX phone system with all the functionality you need for your business.
In addition to phone calls, you can use Dialpad VoIP service to conduct video conferences, send instant messages, and more in their easy-to-use desktop and mobile app. Plus, you and your team can always stay connected through Dialpad with features like call forwarding to mobile.
Pricing (Pro plan)
Standard: $20 user/month

Pro: $30 user/month
Funktionen
Call forwarding, transfer, hold, and mute

Custom voicemail greeting

Voicemail transcription

Rund-um-die-Uhr-Telefonsupport an den Werktagen

25 ring groups (departments)

Hold queues

API & webhooks
Weitere Infos über Zendesk für HappyFox
10. Five9
You can look forward to no long-distance fees and reduced operating costs if you switch to Five9's VoIP service for businesses. Five9 is flexible enough to meet your needs whether you're looking for VoIP to power your simple business phone system or if you need VoIP for your inbound and outbound call center.
However, its plans are certainly geared towards users looking for VoIP for their contact center. Five9's software allows customers to use their existing equipment to set up their VoIP service. So if you have landlines currently, you'll need a VoIP adapter. But if you plan to rely on your computers, that works too.
Pricing not available
Funktionen
Omnichannel-Verteilung

Outbound dialer

Intelligent virtual assistant

Real-time and historical dashboards

Workflow-Automatisierung

Call recording

Web call back

Predictive dialing
Weitere Infos über Zendesk für Helpjuice finden Sie hier
Business VoIP service from Vonage is a great option for small businesses and international enterprises looking for agile, reliable business phone service. In addition to its VoIP phone service, Vonage also provides a wide range of physical business phones. And, like many other options on this list, Vonage provides much more than just VoIP phone services.
Call tagging, call monitoring, messaging, and CRM integrations all come with Vonage's business VoIP service. It's also worth noting that Vonage is especially well-suited for companies who are already using Microsoft Teams thanks to its tight integration with Teams.
Preisinformationen
Mobile: $19.99 per month, per line

Premium: $29.99 per month, per line

Advanced: $39.99 per month, per line
Features (Advanced plan)
Mobile and desktop apps

Call transfer, hold, and call forwarding

Visual voicemail

Paging groups

Call logging

Call waiting

Call-Center-Management

On-demand call recording
Weitere Infos über Zendesk für Helpjuice finden Sie hier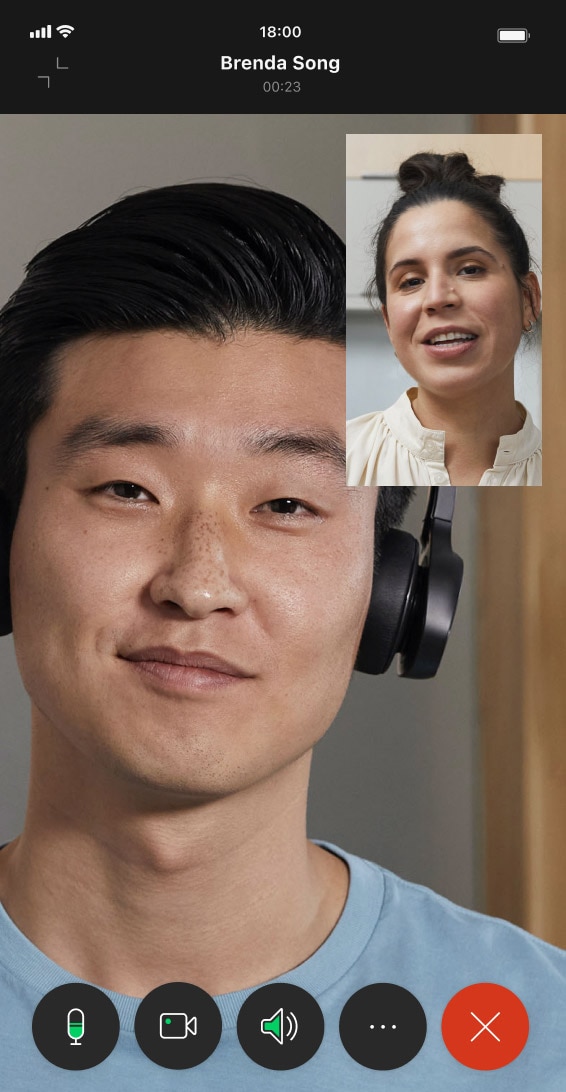 Powerful, cloud-based calling is the name of the game with Webex Calling by Cisco. All your VoIP calling feature needs are met with Webex including merging calls, visual voicemail, do not disturb, call forwarding, and much more. However, for companies seeking a simple solution, Webex is not it.
Along with their solid base of business-class VoIP service, Webex by Cisco includes support for meetings, screen sharing, chat, interactive whiteboard, and more. And even the basic Call plan includes unlimited local and domestic long-distance calling and international long-distance calling billed per minute.
Preisinformationen
Meet: $15 user/month

Call: $17 user/month

Meet + Call: $25 user/month
Funktionen (kostenloser Plan)
Extensions

Advanced calling features including call history, forwarding, muting, etc.

Unlimited messaging

Ende-zu-Ende-Verschlüsselung

HIPAA and BAA compliance

Chat and call-in support
Weitere Infos über Zendesk für HappyFox
CloudTalk Voice is an intuitive business VoIP solution meant to help you connect your employees, departments, and branches. On top of that easy phone connection throughout your organization, CloudTalk can help you monitor customer calls, reduce ongoing phone costs, and manage your phone system.
If needed, you can use CloudTalk's business VoIP in their call center software to support inbound and outbound calling. In either case, unless you choose to change devices, CloudTalk can be set up with the computers and smartphones you already use.
Preisinformationen
Starter: $30 user/month

Essential: $40 user/month

Expert: $60 user/month
Features (Essential plan)
Advanced analytics

Unlimited inbound and intracompany calls

App

International numbers for 140+ countries

SMS

Workflow-Automatisierung

Skill-based routing

Open API

Real-time dashboard
Learn more about Zendesk for CloudTalk
CallRail is unique among the options on this list in that its VoIP functionality is mainly aimed at salespeople. To that end, CallRail is all about boosting sales results by providing comprehensive solutions designed for inbound and outbound calling, and text messages.
In addition to its VoIP service, CallRail offers features such as keyword-level attribution, customer reporting, and email summary reports. And while salespeople are the primary use case, CallRail's VoIP can also be useful for service organizations.
Preisinformationen
Lead Center (1 - 2 agents): $40 per agent

Lead Center (3+ agents): $30 per agent
Features (Lead Center)
10 Local Numbers

10,000 Transcription Minutes

Unlimited Softphone Minutes

Unlimited SMS Text Messages

Offline call tracking

Online call tracking

Form lead tracking

Dynamic number insertion (DNI)
For a small business looking to adopt their first business class VoIP phone service without signing a lengthy contract, Ooma Office is worth a look. Ooma is particularly easy to use but it's also not as feature-rich as other, more sophisticated solutions. Of course, like most other tech companies, Ooma is always adding new features to its software.
Still, with all the must-have features you'd expect of a cloud-based PBX, Ooma Office remains a great SMB option. To make transitioning from analog phones even easier, Ooma's business VoIP can also support traditional phones. And while Ooma provides their own VoIP phones, you can also bring your own.
Preisinformationen
Ooma Office: $19.95 user/month

Ooma Office Pro: $24.95 user/month
Features (Ooma Office plans)
Ring groups

Extension dialing

Call log

Call blocking and forwarding

App

Voicemail
Zoom, the popular video conferencing app, also provides VoIP service for business. Its VoIP service, called Zoom Phone, comes with robust features including call routing, call forwarding, conference bridges, call recording, and virtual extensions.
Zoom Phone is cloud-based and in addition to its VoIP service, the software includes video and chat communications, all unified in a single platform. On top of all that, through Zoom Phone Hardware as a Service, you can equip your team with the most up-to-date devices at a fixed monthly price.
Preisinformationen
Pay As You Go: $10 per month/user

Unlimited Regional Calling: $15 per month/user

Pro Global Select: $20 per month/user
Features (Unlimited Regional Calling plan)
Unlimited internal calling

Voicemail with text transcription

Call takeover, monitoring, and whisper

Call recording

Chat

Salesforce, Slack, Microsoft, and Google integrations
Weitere Infos über Zendesk für Helpjuice finden Sie hier
Since Bitrix24's business VoIP service can work in both a contact center (inbound and outbound) and in your internal business phone system, it's a versatile solution that small businesses can use to get up and running quickly. And since it's more than just business VoIP, you can use Bitrix24 to consolidate other communication channels as well in this all-in-one solution.
If you end up liking Bitrix24's VoIP service, rest assured they have plenty of other tools for you to try including a CRM, project management tools, and a website builder. To get started and get a feel for Bitrix24, their free plan is a good option.
Preisinformationen
Basic: $49 per month for 5 users

Standard: $99 per month for 50 users

Professional:" $199 per month for unlimited users
Features (Standard plan)
HD-Videotelefonie

Call back widget

Business hours setting

Call routing, transfer, and forwarding

IVR

Automatic dialing

Call transcription

Call recording playback speed
How to choose the best business VoIP provider?
Between features, cost structure, and dozens of other criteria, it's easy to feel lost when choosing the best business VoIP provider. To dial in your selection process, prioritize these criteria when you evaluate possible solutions.
Aktueller Nutzen und Skalierbarkeit
It's natural (and often smart) to focus on how a potential tool is going to help your business here and now. And while it's important to select a VoIP business service provider that fits your current needs, you also want to consider the future. So as you research VoIP solutions, make sure you're thinking through how the solution can (or cannot) be upgraded or altered to meet your needs in the future.
A case in point is Ooma Office, which is very popular for SMBs aiming to get up and running quickly with VoIP. Yet while Ooma is great for getting started, its lack of features may stymy progress for a growing company.
Quality of service and cost structure
For business-class VoIP, quality of service comes down to features and uptime. So before you even start looking at solutions, make sure you understand what features you need now and what you might need in the future. Then, grade each solution based on how well they meet your feature needs. In most cases, VoIP providers will publish their uptime, so you can grab that figure and include it in your evaluation.
Of course, all that must be balanced with the cost of your business VoIP service. And unfortunately, determining the true cost of a VoIP service takes some doing. In addition to the package price for your VoIP service, make sure you also understand your provider's usage-based pricing. Depending on the provider and your use case, different cost structures can result in wildly different prices.
Ease of implementation and customer service
Another "cost" that doesn't always show up on your expense reports is the labor and time cost of business VoIP service implementation and ongoing maintenance. But while it might not show up on paper, this cost will be felt. This makes it key to prioritize VoIP phone service that can show its value quickly. Long, costly implementations are a quick way to erode faith in your organization that your new solution is worth it.
Frequently asked questions on VoIP phone service
Sind Sie bereit, den VoIP-Service für Unternehmen auszuprobieren?
Warten Sie auf den perfekten Zeitpunkt, sich von Ihrem alten analogen Telefonsystem zu verabschieden? Dann ist dies Ihr Zeichen, Ihrem analogen System Lebewohl zu sagen und zum VoIP-Service für Unternehmen zu wechseln. Und Sie können noch heute Ihre Reise mit dem VoIP-Service von Zendesk beginnen. Worauf warten Sie noch?
Der VoIP-Service von Zendesk ist in das branchenführende Zendesk-Ticketsystem eingebettet und damit die einzige Lösung für den telefonischen Support, die in Zendesk integriert ist. Erleben Sie es noch heute, um Probleme schneller zu lösen, den Telefonsupport und die interne Kommunikation zu messen und zu verbessern sowie bessere Kunden- und Mitarbeitererlebnisse auf allen Kanälen zu schaffen.
Außerdem lässt sich der VoIP-Service von Zendesk im Handumdrehen einrichten, ohne die IT-Abteilung hinzuziehen zu müssen, zusätzliche Techniker einzustellen oder neue Anbieter zu verwalten.
There's more information about how adding VoIP software into your customer support will take your customer experience to another level.