Every year, leaders in the sales industry find themselves asking the same questions:
Is our company positioned competitively?
Are we using the latest tools and strategies to get the most out of the market?
What is the next game-changer?
While you're probably familiar with popular sales software trends and consumer habits, there's one sleeper strategy that's making its way into the plans of the most successful companies. And it may very well be the answer to that last, eternal question.
We're talking about advanced sales intelligence.
On the surface, sales intelligence (SI) sounds similar to sales data or sales analytics. However, SI is a unique technology that requires careful planning and understanding if you want to harness its power and reap its benefits.
In this piece, we'll give you a complete breakdown of this game-changing sales technology and point you toward the top-selling SI tools. Feel free to use the navigator below to jump to specific sections:
What is sales intelligence?
Sales intelligence is the umbrella term for any information used to help sales teams make stronger decisions throughout the sales cycle. But SI typically refers to any sales software or data collection tools used to gather and analyze this information as well as the process of doing the analysis.
That's a lot of ground to cover with two little words, so let's break it down.
SI is best understood when looked at in three simple categories:
Sales data
Sales technology that collects that data
The process of analyzing and using that data
All three of these categories are "sales intelligence." Together, their purpose is to take sales data and use it to its maximum benefit for your business. Most companies naturally combine all three versions of SI in practice, but might refer to them differently in writing. This isn't wrong, but it can cause confusion.
If you find yourself wondering whether something falls under the SI umbrella, the general rule is this: if it's related to sales data, it's probably SI.
How we got here
Sales data isn't new to the sales industry. Long before computers, door to door salesmen still made notes of which areas and demographics bought more products. It was common sense to do so. Any successful sales endeavor understands the necessity of tracking products, pricing, and customer retention—so what makes SI so revolutionary?
The origins of sales intelligence
The sales intelligence industry is projected to grow to $7.35 billion by 2030 at an annual growth rate of over 10%. But it hasn't always been on that trajectory. Until the implementation of AI technology in sales over the past decade, nearly all sales data was descriptive.
Descriptive data is factual data based on observations. Examples might include:
How many calls did my reps make today?
How many sales did my team make today?
How many of each product did we sell today?
How are our numbers for this month compared to last month?
This data is essential to sales—but it's also essentially useless if not used correctly.
Anyone who has worked in sales knows how frustrating it can be when the feedback on their numbers is general or vague. Telling the troops to "raise those numbers this month" might inspire a burst of effort, but doesn't impact numbers in the long term. After all, sales reps have always been able to squeeze in more sales calls with better technology. But without insight into why the calls they are making aren't succeeding, sales numbers still stagnate.
Some of the earliest insightful data came from reps surveying buyers to find out what attracts them. Simple questions like, "What do you like about this product?" shifted the focus from the seller to the buyer and opened doors into the customer experience.
And focusing on the buyer worked. It still works. In fact, Forbes reported that 84 percent of companies that work to improve their customer experience report an increase in their revenue. With an 84 percent success rate, it's no wonder companies want insightful, prospect-centric data. And that's why investment in SI skyrocketed in the 2010s.
Sales intelligence today
Sales intelligence revolutionized the sales industry by taking the benefits of long-term data analysis and presenting them in real time. Monthly and quarterly reports are fantastic and enlightening, but they don't stop problems in their tracks or alert sales teams to urgent opportunities.
Good SI highlights every decision an existing customer or prospect makes. This lets sales teams see the moments where decisions are made and key in on why those decisions were made.
This real-time data analysis changes the game for sales orgs. Rather than trying to solve problems retroactively, they can pivot strategies mid-sales cycle. If a company finds that they're losing prospects in the middle of the pipeline after a key point in the sales conversation, they can reevaluate and eliminate churn.
SI also gleans data from the entire market so that buyer personas and lead scoring sheets are kept as accurate as possible. We'll dive deeper into the automation aspects of SI further in the article, but it is worth noting that most of the sales automation that exists today came about because of SI applications.
Sales intelligence vs. business intelligence
Sales intelligence and business intelligence aren't the same thing, but they are extremely complimentary and equally beneficial to your company when used together.
Business intelligence (BI) is the history textbook of your company. It includes all of your past data, analytics, summaries, and decisions. BI is used for cataloging the data about your company, whereas SI is used for mining data for actionable insights.
Basically, business intelligence is concerned with what happened, while SI is concerned with why it happened and how to make it better. And with cutting-edge tech tools like sales force automation systems, SI can take the data from business intelligence databases and use it to guide companies forward with greater confidence in their business decisions.
Why is sales intelligence useful?
Ultimately, sales intelligence is useful because it helps reps work smarter: by optimizing their time spent and outreach effort, they can close deals faster. It's the key to staying competitive in today's consumer market.
Right now, there are loads of options for different types of products. And today's customers are savvy: 81 percent of buyers research products online before speaking with a sales rep.
This research isn't a bad thing, especially if you have a market-leading product. But it does mean that your sales reps need to be prepared with compelling data before entering into any conversation with a prospect.
SI gives your team that data.
For example, it's always best if your sales reps have some idea of where their newest lead is coming from. SI tells your team where your leads were sourced through the deal sources application. This might sound negligible, but your lead's starting point matters when reps are determining which tactics will be most effective.
If a lead is coming in via a referral, your reps know they've already heard good things about the product and will likely tell you about their friend or family member's experience. That gives you something to build on.
On the other hand, if a lead is coming in through cold email prospecting, making a good impression needs to be at the forefront. Reps on cold leads need to have their customer profiles, personalized sales scripts, and empathy ready to go. They also need to check any email analytics for this lead. Did they click on links? Did they visit the website? Did they interact with your company's chat bot? The answers to these questions tell reps exactly how to anticipate the needs of incoming leads and meet them where they are—which inevitably leads to stronger closing rates and higher revenue.
Buyer persona development
When your company creates or updates its buyer personas, where do those personas come from? Who decides who your target audience is? Chances are that your company's buyer personas come from information your sales leaders provide. And that makes sense when sales leaders' version of the ideal customer is reasonably educated.
That said, it's not always spot on.
Buyer personas based on internal opinions are inherently biased. Frequently, these personas reflect what sales leaders want their ideal buyers to look like rather than how their active audiences actually behave. To be fair, most companies have more than one version of an ideal buyer, and these versions may be accurate in general terms. For example, no company running marketing for auto dealers is going to market to grocery stores.
In general terms, plain human observation is fine. But with today's technology, deeper insight is possible and readily available. By using data to closely examine existing buyers and their behavior, businesses no longer have to rely on "general" observations.
One of the most useful features of SI is segmentation of customer profiles and demographics. By compiling these details, you can get a clear picture of the types of people who buy your products directly from the source. For instance, you might want to market equally to startups and larger companies, but if your SI tells you that 75 percent of your buyers are startups, you might want to shift your outreach strategy.
Lead generation and qualification
Generating consistent, quality leads is almost universally agreed upon as the bane of the sales industry. Whether you're a young company creating its initial client base or an established enterprise trying to freshen the pot, consistently generating high quality leads is an incredibly difficult task. SI doesn't solve all the problems of lead generation, but it can take those problems off your hands.
From content marketing to email campaigns, leads come to your company's doorstep from a variety of avenues. Unfortunately, even the qualified leads from those methods aren't always ready to pass to your sales team.
One of the key time-wasting issues sales teams deal with is trying to track down the decision maker they need to speak to. Anyone from a qualified company can pass you a business card, but there's no telling if they possess the authority to purchase.
SI AI typically includes an organization chart feature that lists companies in your target market and allows you to automatically bypass the hierarchy of contacts so you can reach the individual with true purchasing power.
Shortened sales cycles
Sales aren't always a quick transaction at a cash register. In fact, some sales cycles average as long as 83 days. That's an extremely long pipeline with numerous chances to lose your prospects. Some of the causes for longer sales cycles can't be fixed on your end. No amount of SI will change the number of decision makers you need to get through or common hold ups like existing contracts.
What you can do is increase your awareness of these factors so you can create a stronger plan of attack.
When used to their full capabilities, SI tools can break down your qualified leads based on potential holdups. SI AI scans the entire market for customer behavior and alerts you to qualified leads who may not be able to purchase due to contractual obligation. These leads are still valid, but with this new knowledge, you can push them to a later cycle when a sale might be more feasible.
The best way to accelerate your sales cycle is to make sure your reps aren't wasting time on non-convertible leads. Use SI to break down your lists and target strategically.
Increased sales support and rep success
Many companies struggle with sales support. That's not surprising. As sales teams grow and prospects expect more personalized attention, it becomes difficult to get every sales rep the support they need. Unfortunately, that means that only about the top 10-20 percent of your sales team has the resources they need to hit their quotas.
SI takes the burden of support off of your sales managers and puts it on the automation. SI tools provide sales reps with extremely detailed customer profiles that are updated automatically on a regular basis. Having easy access to clean, correct prospect information boosts your sales reps' ability to do their jobs and ultimately close more sales.
Real-time SI reports can also guide your sales reps to victory by letting them know when a prospect is in a prime position in the pipeline. A large part of sales is simply balancing a massive amount of information as you move between clients. There's no shame in letting sales software shoulder some of that burden.
Improved customer experience
You can't read your prospects' minds, but you can use data to anticipate their needs. Prospects are always pleasantly surprised when you meet their expectations. It shows them you understand your market so well that you can meet their needs before a problem arises.
Of course, you can only meet those expectations if you know what they are.
SI is your crystal ball into your prospects' desires. By tracking prospect behavior, SI tools can pinpoint when your prospects want to be contacted, what aspects of your products they want to hear about, and even whether or not they're open to upsells (based on financial history and purchase history).
Remember, every bit of information you gather on your leads and prospects has the potential to optimize your sales pipeline—as long as you know how to look at it.
Sales intelligence applications
Your company's size and organization will influence the kind of sales intelligence tools and applications required. However, there are a few key things all SI should do/assist with.
The applications for SI are endless, but here are the ones you need to know inside and out.
Sales intelligence data
Data is the key to all sales intelligence, but "sales data" is a vague term, at best.
When it comes to SI data, what we're really talking about is comprehensive and detailed data on potential customers (both individuals and businesses).
SI tools gather data through AI systems. While you're doing other things, your SI is scouring the internet and building massive databases of knowledge so it can generate useful reports.
Your SI software is your highest-ranking numbers manager. With a strong SI tool, you can:
View real-time pipeline analysis
Hone your sales funnel
Analyze sales performance
Evaluate marketing effectiveness
Strategize your lead sources
Track KPIs and sales goals
Create performance dashboards
Learn from sales and success insights
Generate accurate sales forecasts
Discover training opportunities
Are a lot of these reporting functions possible through manual compiling and analysis? Of course they are. Humans are fully capable of calculating any number of sales metrics without the aid of technology—but your company doesn't have the time for that. Manual calculations take more initial time and increase the likelihood of human error.
When you have an SI system gathering and organizing your data, it gives you the time to focus on the human interactions your sales software can't. Leave the data to the AI and the relationship-building to your human team.
Predictive sales intelligence
Predictive sales intelligence refers to any sales analytics that assist your company in predicting customer behavior and jumping on behavioral opportunities. Predictive analytics is arguably the most important aspect of any SI tool. In fact, according to Forbes, high performing sales teams are four times more likely to use predictive analytics in their strategies.
Customer behavior is a large category in the sales industry, so let's break it down a bit. Most predictive analytics fall into one of three categories:
Email analysis
Forecasting
Lead scoring
Email analysis
Email is not always the best form of communication, but when your reps are attempting to interact with hundreds of prospects through personal and virtual selling, it's a necessary evil. The bad news about email is that people can trash your messages without ever reading your company's name.
The good news about email, however, is that SI can use it to analyze your campaign performance and hone better strategies.
SI uses email analysis and tracking to calculate opens, click counts, searches, and interactions. Your team can then look at those numbers on a large-scale or individual-account level and determine which emails are working, which need revising, and which prospects are the most interested in your outreach.
Not every prospect is going to be receptive to emails, but the ones who are should be immediately pursued. If email works for a key group of prospects, you can take advantage with targeted email marketing and special offers.
Forecasting
Sales intelligence tools significantly increase the accuracy and frequency of your sales forecasting capabilities. Real-time data analytics from sales tools and sales analytics software help your team shift strategy in the moment, but they also give you key insights into what's to come.
Long-term sales forecasting is very common with or without SI—largely because we can only make educated guesses about the future once we move far enough away from the present. Short-term sales forecasting, however, is newer to the sales game and is greatly influenced by SI software.
Short-term sales forecasting is all about breaking the sales cycle into manageable milestones. Rather than looking at how many sales your team can expect in a sales cycle, short-term forecasting looks at smaller components such as, "What is the win likelihood for this prospect?" or "How much are we set to make from this deal?"
SI creates these forecasts through value data. For example, if you have a deal valued at $400 with a 75 percent win likelihood, then the forecast for that deal is approximated at $300 (total deal value x win likelihood percentage). Keeping track of individual deal forecasts keeps your team focused on their goals and aware of realistic numbers.
These forecasts are also crucial for budgeting. Over-inflated forecasts of the overall sales cycle can easily lead to overspending. Smaller, more accurate forecasts help keep those budgets in line until the cycle is closed and the funds are confirmed.
Lead scoring
Lead scoring checklists are fantastic, but SI takes your lead scoring to the next level. Lead scoring/qualifying classifies leads based on specific scoring criteria. These are simple, observable traits that you can determine with a quick search engine inquiry, including:
Job title
Role
Level of seniority
Experience in the industry
Industry
Company size
Company revenue
Geographic location
By entering your lead scoring variables into your SI software and assigning each a flexible value, you can automatically assess which leads have the most promise. Lead scoring ensures the leads your team is pursuing are the leads most likely to convert, and smart lead scoring saves you time and increases your revenue.
Prioritizing your sales reps' time means they have a stronger chance of closing more deals. If they only have the time to take on 25 new leads and you have 100 leads to choose from, you need to make sure you're passing on the cream of the crop. SI helps that cream rise right to the top.
Sales intelligence CRM
Sales intelligence tools can either be independent pieces of software or be a built-in part of your CRM (customer relationship management) system. Many CRMs come equipped with SI tools already, and the ones that don't are usually easy to integrate.
CRMs are not the same thing as SI. CRMs are organization systems for managing customers. They allow complex communication, admin organization, and automated marketing and reporting. SI, on the other hand, is all about analysis and data.
That isn't to say your CRM isn't capable of incredible SI. Not all sales software is created equal and not all solutions will work the same way for every company. Whether you're after sales apps or social selling software, it's crucial to know exactly what you're looking for.
Comparison chart for the best SI platforms
Much like the service pieces, can we create a table here that includes primary features and pricing information?
| | Zendesk | Sales Hub | Salesforce | ZoomInfo | Seamless.ai | LinkedIn Sales Navigator | Apollo.io | Groove |
| --- | --- | --- | --- | --- | --- | --- | --- | --- |
| Free trial/demo | Yes | Yes | Yes | Yes | Yes | Yes | Yes | Yes |
| Starting price | $19/per user/per month | $50/2 users/per month | $25/ per user/ per month | Custom per contract | $94.70/per user/per month | $79.99/per user/per month | Free for single users | Custom per contract |
| Lead building | ✓ | ✓ | ✓ | ✓ | ✓ | ✓ | ✓ | ✓ |
| Data cleaning | ✓ | ✓ | ✓ | ✓ | ✓ | ✓ | ✓ | ✓ |
| Segmentation | ✓ | ✓ | ✓ | ✓ | ✓ | ✓ | ✓ | ✓ |
| API | ✓ | ✓ | ✓ | ✓ | ✓ | X | ✓ | ✓ |
| Forecasting | ✓ | ✓ | ✓ | X | X | X | X | X |
| Sales Dashboard | ✓ | ✓ | ✓ | X | X | X | X | X |
| Account-level insights | ✓ | ✓ | ✓ | X | X | X | X | X |
The 8 top sales intelligence platforms
With the sales intelligence market growing at an exponential rate, choosing the right SI software can be a nightmare. Below, we've gathered the top eight SI tools on the market, complete with feature comparisons.
All G2 rankings are sourced from G2's sales intelligence software feedback.
Zendesk Sell is a state-of-the-art CRM, sales force automation platform, and SI tool. Zendesk is one of the leading providers of sales software, trusted by over 170,000 businesses worldwide. With a long list of robust features, scalable pricing, and simple navigation, Zendesk is a sure investment in sales organization.
With Zendesk, your company runs the show. Our high speed data analytics and custom reporting give sales leaders easy access to their data so they can leverage the insights they need to forecast, track leads, and drive revenue. Built-in prospecting, enrichment, and communication tools let you fill your pipeline with better quality leads and automate outreach through targeted communication.
Additionally, with over 300 integration partners, Zendesk is the most open, flexible platform available. You'll never have to choose between companies. Zendesk seamlessly integrates with your existing software so that your reps receive the benefits they need, not the headaches of learning a new system. Our ROI speaks for itself: 2 out of 3 sales teams saw a return on their investment within 6 months and over half of our customers saw double digit revenue growth after implementation.
If you're looking for an all-in-one system designed to propel your company forward while keeping things easily accessible and user-friendly, Zendesk has the products you need.
Per G2 user reports, Zendesk ranks in the top 20 percent for:
Ease of use
Quality of support
Ease of setup
Features:
Lead building
CRM/Marketing automation integration
Data cleaning
Data enrichment
Segmentation and filtering
Messaging
Mobile user support
API
Industry research
Lead analysis
Market insights
Account-level insights
Forecasting
Sales dashboard
Desktop integration
Knowledge base
Free Trial:
Yes
Entry Pricing:
Zendesk starts at the Team level at $19 per user/month up to three users. Prices are scalable based on team size and custom quotes are available for larger enterprises.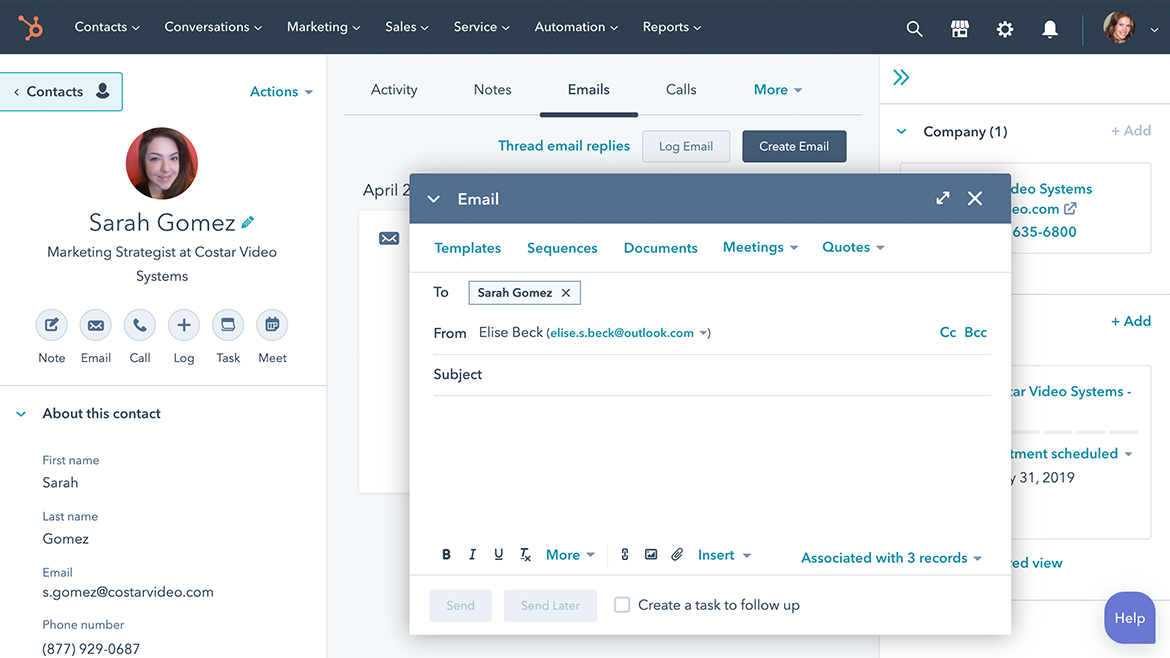 Sales Hub is a CRM from HubSpot with engagement, analytics, and price quote tools. It's built on the HubSpot CRM platform and works best with companies already using HubSpot software. Sales Hub is designed for high scalability and efficient data analytics tools.
Combining lead management software and pipeline management tools, Sales Hub allows users to view their entire process through their sales intelligence data and adjust their lead-generation processes. Customizable automations also allow teams to create targeted marketing outreach based on informed segments.
Sales Hub's highest rated features (per G2) include email marketing, lead management, and account management while their lowest-rated include mobile user support and price list management. If you are already a HubSpot user, Sales Hub is an excellent way to incorporate the power of sales intelligence into your tech stack. However, if you're not already a HubSpot user, it might be more cost effective to invest in an integratable third-party SI tool or the Sales Hub equivalent to your current CRM.
Per G2 user reports, Sales Hub ranks in the top 20 percent for:
Ease of use
Quality of support
Ease of setup
Features:
Lead building
CRM/Marketing automation integration
Data cleaning
Data enrichment
Segmentation and filtering
Automated reporting
Messaging
Mobile user support
API
Lead analysis
Market insights
Account-level insights
Forecasting
Sales dashboard
Desktop integration
Free Trial:
Yes
Entry Pricing:
Sales Hub starts at $50 per two users per month. Prices are then scalable based on team size and custom quotes are available for larger enterprises. An extremely limited version is available for free.
Sales Cloud is part of the large-scale Salesforce CRM solution. It includes numerous dynamic features such as lead management, contact management, sales opportunity management, forecasting, automation, and customizable dashboards. Similarly to Sales Hub, Sales Cloud is an integral component of Salesforce and designed primarily for companies of any size who are already Salesforce software users.
Sales Cloud provides users with countless options for reporting and data analysis. Integration with third-party products and other Salesforce software means users can access data for sales intelligence analysis from anywhere in their company.
It is important to note that while Sales Cloud and Salesforce are well-renowned platforms, they are not always the most user-friendly for smaller companies who are new to sales software. If this is your first go at sales intelligence, make sure you invest in a product you can easily train in and then work your way into more tech-savvy solutions if you see fit.
Per G2 user reports, Sales Cloud ranks in the top 30 percent for:
Ease of use
Quality of support
Ease of setup
Features:
Lead building
CRM/Marketing automation integration
Data cleaning
Data enrichment
Segmentation and filtering
Automated reporting
Messaging
Mobile user support
API
Lead analysis
Market insights
Account-level insights
Forecasting
Sales dashboard
Desktop integration
Free Trial:
Yes
Entry Pricing:
Sales Cloud starts at $25 per user per month. Prices are then scalable based on team size and custom quotes are available for larger enterprises.
ZoomInfo is a revenue operating system designed to create full market and customer visibility through data and integrations. Available in four platforms (SalesOS, MarketingOS, RecruitingOS, and OperationsOS), ZoomInfo is customizable for your company and scales to your needs. They pride themselves on being the "first ever go-to-market operating system" with a data strategy that takes you through the full journey from marketing to closing.
ZoomInfo offers comprehensive solutions, including lead scoring, territory planning, sales prospecting, and targeted outreach. Extensive filtering abilities mean that marketing and sales can zero in on personalized marketing and segmented pain points without wasting time.
With nine security certifications, over 300 data researchers, over 100 million contacts, and over 38 million online sources, ZoomInfo is a comprehensive SI system you can trust. If you're a larger company looking for extensive data insight on buyers and competition, this is a great software option for you.
Per G2 user reports, ZoomInfo ranks in the top 20 percent for:
Ease of use
Quality of support
Ease of setup
Features:
Lead building
CRM/Marketing automation integration
Data cleaning
Data enrichment
Segmentation and filtering
Automated reporting
Messaging
Mobile user support
API
Industry research
Free Trial:
Yes
Entry Pricing:
Contact company for a quote.
Seamless.AI is an artificial intelligence system on a mission to maximize revenue, increase sales, find your entire market, and make your sales process, well, seamless. With real-time data verification, Seamless.AI keeps your contacts automatically updated on a regular basis so you don't lose prospects to inaccurate information. Seamless.AI is a relatively new company on the market, but it's quickly gaining steam as a rising star in SI software.
While highly rated, it's worth noting that Seamless.AI is primarily a contact-based platform. It excels at creating and maintaining connections, but does not necessarily include all of the features associated with less specified SI platforms. Seamless.AI is ideal for companies who are already using a CRM or additional sales automation platform and want to incorporate a strong lead-building supplement.
Per G2 user reports, Seamless.AI ranks in the top 20 percent for:
Ease of use
Quality of support
Ease of setup
Features:
Lead building
CRM/Marketing automation integration
Data cleaning
Data enrichment
Segmentation and filtering
Mobile user support
API
Industry research
Internationalization
Free Trial:
Yes
Entry Pricing:
Custom pricing available. Cheapest package starts at $94.70 per user/month. Single user pricing starts at $147 per user/month.
LinkedIn Sales Navigator is a version of LinkedIn designed for salespeople and sales teams. Navigator connects companies and individuals via LinkedIn and helps them establish and grow relationships with new contacts. This platform is geared nearly exclusively towards B2B sellers. LinkedIn Navigator focuses on professional connections through the existing platform, so B2C sellers aren't likely to get as much bang for their buck.
For the right B2B seller, though, LinkedIn Sales Navigator is an extremely helpful tool. By managing contacts within the LinkedIn database, LinkedIn Navigator lets your company connect with potential customers and partners without their direct contact information. It also builds customer profiles based on LinkedIn profiles, so your sales team enters new conversations extremely prepared.
Note that LinkedIn Navigator is more complex than LinkedIn Business. If you are already subscribed to LinkedIn Business, contact the company for a combination quote.
Per G2 user reports, LinkedIn Sales Navigator ranks in the top 20 percent for:
Ease of use
Quality of support
Ease of setup
Features:
Lead building
CRM/Marketing automation integration
Data cleaning
Data enrichment
Segmentation and filtering
Automated reporting
Messaging
Mobile user support
Industry research
Internationalization
Free Trial:
Yes
Entry Pricing:
Cheapest package is the Core Package, which starts at $79.99 per user/month. Prices are customizable for large packages in the Advanced Plus category.
Apollo.io is an all-encompassing SI platform designed to build leads, analyze data, and form active strategies. Used by startups and global enterprises, Apollo.io leads the way in B2B engagement tools and qualification features. Their B2B database includes over 220 million contacts and 30 million companies.
This platform is more in-depth than many of its competitors. Apollo.io includes all of the expected lead and prospect building features, but also branches into CRM territory with automated communication and relationship management.
Apollo.io also facilitates sales tracking and real-time engagement analytics throughout your pipeline. Paired with a strong, focused sales CRM, Apollo.io is a promising SI tool for companies of all sizes.
Per G2 user reports, Apollo.io ranks in the top 10 percent for:
Ease of use
Quality of support
Ease of setup
Features:
Lead building
CRM/Marketing automation integration
Data cleaning
Data enrichment
Segmentation and filtering
Automated reporting
Messaging
Mobile user support
API
Industry research
Free Trial:
Yes
Entry Pricing:
Apollo.io is free for single users. Multi-user pricing starts at $49 per user/month with the Professional package running at $99.00 per user/month. Customizable packages are available.
Groove is a high-powered sales engagement platform designed specifically to accompany the larger Salesforce platform. If your company uses Salesforce, read on. If not, Groove is likely not the best SI platform for your company.
Despite its niche market, Groove boasts some of the highest G2 ratings for SI software. With advanced activity capture, low compliance risk, and streamlined administrative tasks, Groove saves sales reps up to 20% of their weekly admin time.
Groove not only generates and qualifies leads, it also automates outreach through multi-channel campaign automation. This marketing assistance automatically tailors to individual contacts based on response preferences, making Groove one of the more advanced SI AI systems.
Per G2 user reports, Groove ranks in the top 10 percent for:
Ease of use
Quality of support
Ease of setup
Features:
Lead building
CRM/Marketing automation integration
Data cleaning
Data enrichment
Segmentation and filtering
Automated reporting
Messaging
Mobile user support
API
Industry research
Free Trial:
Yes
Entry Pricing:
Contact company for a quote.
Try sales intelligence software for free
Ready to give sales intelligence a try? Request a demo of Zendesk today and see how the power of active data transforms your sales.