Bitkub + Zendesk: Democratizing cryptocurrency exchange through simple, secure access
One of Thailand's top cryptocurrency exchanges, Bitkub broke seed-funding records when it was first launched in 2018. We asked its co-founder and CEO Atthakrit Chimplapibul about Bitkub's origins, its education-first approach to customer acquisition, and how blockchain technology can change the world.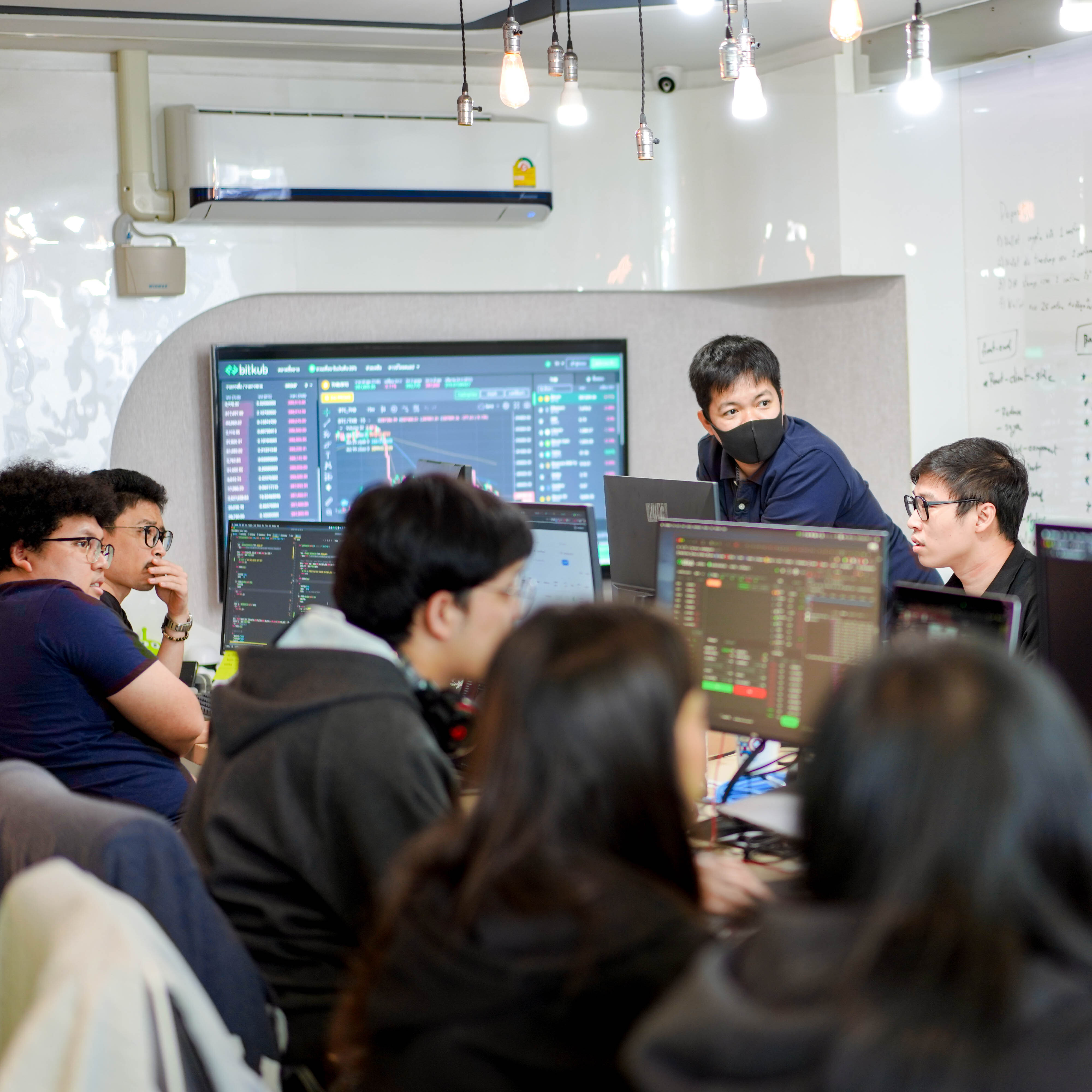 "As the No. 1 cryptocurrency exchange in Thailand, we receive a lot of inquiries per day. And it doesn't happen just from the customer side, but also from the business side. So having the ability to manage those inquiries efficiently is not just nice to have, but quite essential to our business."
Atthakrit Chimplapibul
Co-founder and CEO - Bitkub
"We're very lucky to have used Zendesk since day one. We wouldn't be able to manage our ticket volume or run our support team using email or Google sheets."
Atthakrit Chimplapibul
Co-founder and CEO - Bitkub
15%
Help center traffic led to the official exchange
Bitkub is in the trust business—the "trust in cryptocurrency" business, more specifically. That trust isn't in short supply when it comes to investors—the company received record-breaking seed funding—but rather among the people it is building its digital asset exchange for: the ordinary denizens curious about blockchain technology but who are unsure how to use or invest in it.
Launched in February 2018, the company is now one of Thailand's leading cryptocurrency exchanges. Its growth has come from making it simple for people to learn about, understand, and work with cryptocurrencies. With more than 60,000 likes on its Facebook page and hard-won licensing approval from Thailand's financial regulators, Bitkub's vision to democratize access to blockchain technology is taking root—people are joining the platform in droves. The company now has five times the number of employees as when it started, a reflection of that rapid growth.
Bitkub co-founder and CEO Atthakrit Chimplapibul spoke with story producer Faith Hanna about how Bitkub began, how it has grown, and what its impact has been on the blockchain revolution.
Origins: making the right investments
What drew you to cryptocurrency initially? How did it capture your imagination?
I first came across blockchain technology in early 2016 from a book called The Industries of the Future. After months of research, I became a believer in the technology and its ability to transform the way we live. Imagine everything around us being digitized. All transactions—money, information, or even ownership of any kind, from copyright to real estate—happening in a blink of an eye.
I believe that blockchain technology will democratize the financial industry by reducing current frictions and inefficiencies in terms of time, cost, and labor. For example, before blockchain, when you tried to remit money abroad, you would be subjected to a very high transfer fee and have to wait several days for the transaction to complete. To transfer property, you need to go to a centralized authority, which takes a lot of time and effort.
With blockchain technology, you don't really need to have that centralized party anymore; instead a whole network of computers will verify ownership.
I was fortunate enough to have met people who shared this vision. And that was the beginning of Bitkub. Thailand being one of the first countries to embrace this technology allows it to potentially become a leader in this emerging industry.
While you have won them over, Thai regulators haven't always been on your side. And it's taken time to change peoples' minds about the safety, security, and benefits of blockchain technology. How have you converted detractors into believers?
Cryptocurrency is quite new and quite difficult to understand. When many people don't understand something, they might think that it is a scam. So educating them is quite a challenge and time-consuming. Converting them into supporters is a whole new level of effort.
But we never directly try to sell our products. Instead, we're trying to educate people to understand blockchain and to open up to it. Once they believe in the technology, they come to our platform and try to trade themselves.
So it's really education that makes people feel comfortable with something that can feel very complicated.
Yes. And while there are many competitors, we are the only one educating people. But if a prospect moves to a competitor's platform, then all the effort to educate them would mean nothing.
That's why, on top of educating, we have to build the best platform. We have to make it sticky. It's not just enough to educate, to bring in people. You need to make sure that your product is the best as well, so that they stay.
The Bitkub leadership team, yourself included, have founded companies before. So you know the importance of investing in the right technology early on. What were you looking for specifically in a help desk tool?
We were looking for a ticketing system, live chat, and a knowledge base for FAQs. We considered several different softwares. We chose Zendesk because it is the most grounded, most suitable for us.
How did you come across Zendesk? And what went into your decision to choose it as your CX platform?
A simple search on Google would lead almost everyone to Zendesk; Zendesk is the world's number one help desk solution. Additionally, once we really started onboarding our customer support team, most of them would recommend us to Zendesk. They were already familiar with the software, so minimal onboarding time was needed.
More importantly Zendesk provides a complete support package: live chat, knowledge base, ticketing. And it can be integrated into Slack and other internal communication tools. That makes it extremely convenient and efficient for us to operate.
Ultimately, Zendesk is well rounded and offers all the features we are looking for at a price we can accept.
Acquiring and retaining valuable customers
Tell me about that process of building a customer support team. What did it look like to begin with? How has your support operation evolved over time?
Right from the start, we used Zendesk for ticketing, live chat, and for our FAQs. We have grown a lot since then. Initially we received only a few tickets per day, and now we're receiving several hundreds inquiries per day. During market volatility, we have received up to 5,000 tickets per day.
We also integrated Zendesk Chat both in our web app and also in our mobile app. And it has been very useful for us and for our customers. We use Zendesk for Facebook inquiries and other social media as well. Customers can reach out to us via any communication channel.
In addition to Bitkub's support team, are there any other teams that are also using Zendesk?
Yes. Our business development team, which includes public relations, and HR are also using Zendesk. As the No. 1 cryptocurrency exchange in Thailand, we receive a lot of inquiries per day. And it doesn't happen just from the customer side but also from the business side. So having the ability to manage those inquiries efficiently—and not relying on emails or Google sheets alone across departments—is not just nice to have but quite essential to our business.
Bitkub uses several different technologies to run its business. How does Zendesk compare in terms of how easy it is to use and maintain?
Zendesk ranks among the top three most used software tools at our company. Out of our 130 employees, more than half of them are using Zendesk. So that says a lot about its ease of use.
On top of that, our team uses Zendesk's knowledge base product heavily. We have written over 500 useful articles and it receives roughly six-figure visitor traffic per month. And it has helped us convert traffic into new users.
That fits in with your strategy of customer education leading to customer conversion.
Yes. Last time I checked, the exchange has received around 10 to 15 percent of its traffic from the knowledge base alone. That's a huge chunk of visitors from the knowledge base.
If you didn't have a help center so people could self-serve answers, how much larger do you think your support team would need to be?
Well, I think it would need to be at least double or even triple because we wouldn't be able to manage those 5,000 tickets we received per day.
What would you say has been Zendesk's return on investment?
I don't have the exact figure, but what I can say is that we have over 500 useful articles on our Zendesk knowledge base. We have received six-figure visitors on that platform alone. 15 percent of that traffic is directed to our exchange, which in turn converts visitors into customers.
The cost of customer acquisition is high because we need to educate them a lot. We cannot afford them to go to our competitors. But educating customers is worth it because the average lifetime value of an educated customer is generally significantly higher than the cost of acquiring another customer. Zendesk is definitely helping us attract and retain customers by aligning with one of the four main pillars of Bitkub, which is to be customer centric.
On top of that, our customer support team CSAT is at 90 percent. So that is probably the reason why our customer retention rate is very high and why we are the market leader with 95 percent market share at the moment.
Looking ahead: driving change
How has COVID-19 changed your business? How has Bitkub been adapting to the new normal?
During the COVID-19 pandemic, I saw that a lot of Thai businesses were struggling because they did not have the right tool in place. They rely on a physical office. They rely on papers. We run our business on scalable software, like Zendesk and Slack. So we were able to manage to work from home since March without a drop in performance.
I'm curious to hear what is something that you're most proud of having accomplished since co-founding Bitkub?
We started off with only 20 people, but we've grown fivefold. This year, we're thinking of scaling to 250 people. Being able to provide a steady income and better quality of living for more than 100 people right now makes me and the other co-founders very proud.
On top of that, we started off as the second or the third biggest cryptocurrency exchange in Thailand, but now we have become No. 1. We have grown from a website which had around 50,000 sessions of visitors per month to a million. Last month we received about 1.4 million visitors per month.
If Thailand is to become one of the leaders in the cryptocurrency and blockchain industry, we believe that Bitkub is one of the key drivers of that transformation.
What impact will blockchain technology and financial decentralization have on the world?
It has already disrupted the financial industry. The cost and time required to process international remittance has reduced significantly in the past few years thanks to cryptocurrency.
Next, home, land, car ownership will be digitised, and eventually, everything around you will come in the form of a digital token. Imagine when you can pay for your food, groceries, etc, with these tokens. We are on the verge of a global digital transformation, and we are glad to be one of the key drivers in the space
Are you getting the support that you'd like from Zendesk to fulfill Bitkub's vision?
A good user experience is a key to mass adoption of technology. Zendesk definitely helps us to deliver that. And that is a great contribution towards the blockchain and digital transformation, especially in Thailand.